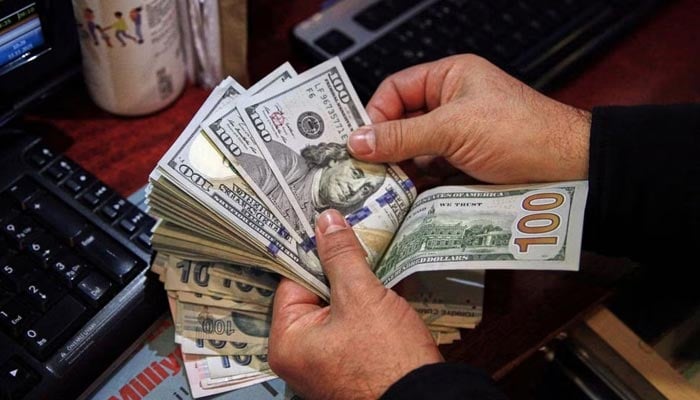 Forex reserves have decreased by $345m to $4.2bn 
Net forex reserves held by commercial banks stand at $5.6bn.
Total liquid foreign exchange reserves clock in at $9.8bn.
---
As Pakistan struggles to secure external financing to pull the country out of the economic crisis, foreign exchange reserves held by the State Bank of Pakistan (SBP) on Thursday reversed their course, snapping their six-week winning streak.
In its weekly bulletin, the SBP said that its foreign exchange reserves have decreased by $354 million to $4.2 billion as of the week ended March 24, which will provide an import cover of less than a month.
The net forex reserves held by commercial banks stand at $5.6 billion, $1.3 billion more than the SBP, bringing the total liquid foreign exchange reserves of the country to $9.8 billion, the statement mentioned.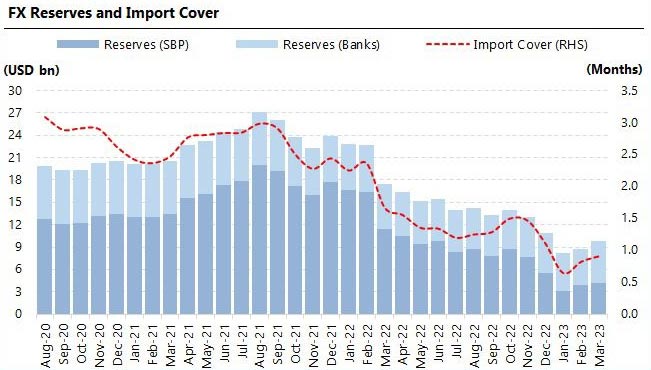 Pakistan's $350 billion economy continues to dwindle amid financial woes and the authorities struggle to strike a staff-level agreement with the International Monetary Fund (IMF).
The Washington-based lender has been in talks with the Pakistani authorities since end-January to resume the $1.1 billion loan tranche held since November, part of a $6.5 billion Extended Fund Facility (EFF) agreed upon in 2019.
The IMF funding is critical for Pakistan to unlock other external financing avenues to avert a default on its obligations. 
An IMF statement said substantial progress had been made in discussions towards policies in recent days and financial assurances were standard in IMF programmes.
"All IMF program reviews require firm and credible assurances that there is sufficient financing to ensure that the borrowing member's balance of payments is fully financed in the next 12 months, with good prospects for financing over the remainder of the programme. Pakistan is no exception," the statement to Reuters said.
Several friendly countries — including Saudi Arabia, China and the UAE — have made commitments to help Pakistan fund its balance of payments as the nation tries to avert a possible default.
IMF's Director of Strategic Communications Julie Kozack has said that timely financial assistance from external partners is critical to support the authorities' policy efforts and ensure the successful completion of the review with Pakistan.
In a statement, the Ministry of Finance said UAE's ambassador to Pakistan, Hamad Obaid Ibrahim Salim Al-Zaabi, called on the finance minister in Islamabad.