Devastating series of tornadoes in the South and Midwestern towns of the US has killed at least 28 people leaving destruction and misery behind, according to BBC.

As a result, thousands of people were left without power, with their homes in ruins.
Washington Post recorded more than 60 tornado reports.
The affected states include Mississippi, Arkansas, Indiana, Illinois, Alabama and Tennessee as each of the states counts casualties due to deteriorating weather situations.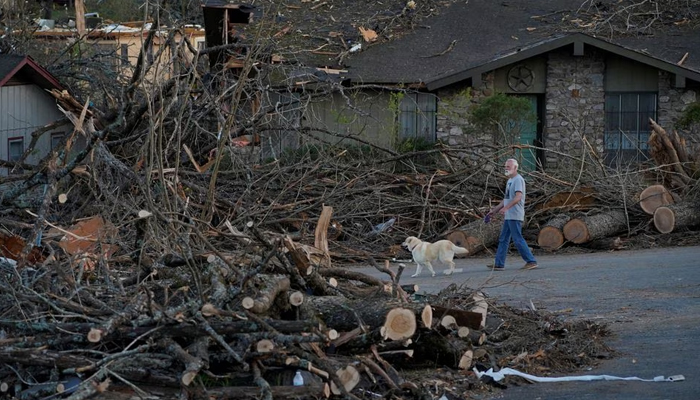 Little Rock Tornado first damaged the homes in the Western part of the city including a small grocery store moving towards North Little Rock and adjacent cities leaving behind destruction.
The University of Arkansas for Medical Sciences Medical Center in Little Rock said that they are expecting at least 15 to 20 patients from the tornado while several people have already been brought into the centre.
Ashley Macmillan said: "A falling tree seriously damaged their home, but they were unhurt."
She also added: "We could feel the house shaking, we could hear loud noises, dishes rattling. And then it just got calm."
A teacher at Wynne School Lisa Worden told Reuters: "We got out at 1:30, which was such a God blessing from our superintendent because otherwise kids would have been on busses and teachers would have still been here. And so that would have been even more devastating".
Governor Arkansas Sarah Huckabee Sanders declared an emergency in the state Friday, with national guards on the move to provide help to the tornado-stricken people.
She noted that she had spoken to President Joe Biden who promised federal support.
Thousands of people in Illinois and Arkansas were also left without electricity.
More power outages were reported in Iowa, Missouri, Tennessee, Wisconsin, Indiana and Texas.
The National Weather Service's Storm Prediction Centre had issued the forecast and warned of such unprecedented thunderstorms and the damages they would entail which are expected to become common notably in Southern states of the US.
A week ago, a tornado in Rolling Fork Mississippi killed at least 21 people.
After the destruction by the Rolling Fork tornado, President Biden visited the affected city and pledged government support for rehabilitation.
With predictions of further harsh weather coming in, Governor Kristi of South Dakota ordered the offices to close in parts of the state.
In the same area, weather experts have also predicted a powerful storm of a similar scale next Tuesday saying a least the initial days of April would be tough.