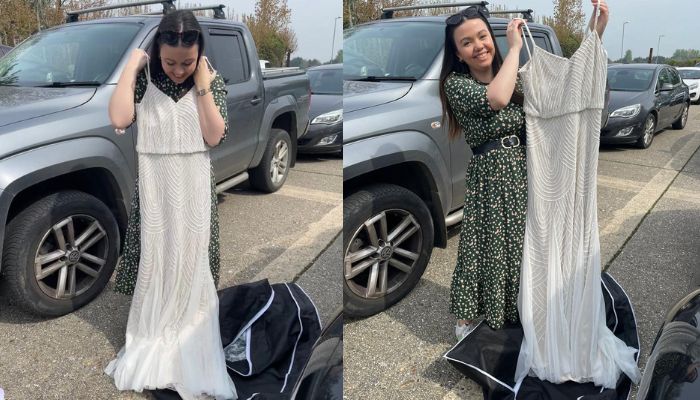 Almost every woman dreams about what her big day will look like, and deciding which dress to wear is a major part of it. Months of careful planning and scouring go into looking for just the right dress to wear at your wedding.
But what happens if your carefully selected wedding dress is sold off before your big day? Something like this happened to Liv Stirling, a bride-to-be in the United Kingdom after she realised that her wedding dress, which was at her maternal grandmother's house for safekeeping, had been sold accidentally.
The bride's pretty white gown from designer brand Adrianna Papell was sold after her grandmother passed away. The heartbroken and panicked bride-to-be then took to social media to issue a desperate plea and prayed for a miracle.
"In the most unfortunate of circumstances, my wedding dress has possibly been sold at Ford Car Boot, as it got accidentally taken during a clearance of my nan's flat where it was kept," Stirling wrote in a Facebook post.
"I am yet to wear it for my special day and would, with all my heart, like to find the person who possibly has it and get it back. Sadly, my nan is no longer with us, and this was going to be like having part of her with me at my wedding.
"It is an Adrianna Papell dress in a size 10, brand new with tags. If you could please share and keep your fingers crossed for a miracle I would really appreciate it."
Thousands of people shared Stirling's desperate plea and invested locals went through Facebook Marketplace and other groups to try and find the bride-to-be's dress.

Later, Stirling shared that she had found a couple who had bought the dress and safely returned it to her. She said the couple "have restored my faith in humanity, and I can not thank them enough for their selfless kind act.
"I also want to thank absolutely everyone who has searched and shared and managed to make me the happiest person in the whole world! My big day will now be complete again with the part of my nan still with me," she said as she shared the happy news on Facebook.