Elon Musk announced on Twitter that a new CEO will be taking over, while he transitions to a product and technical role. The unnamed woman CEO is set to start in about six weeks. Musk will assume the position of executive chair and Chief Technical Officer (CTO), overseeing product development, software, and system operations.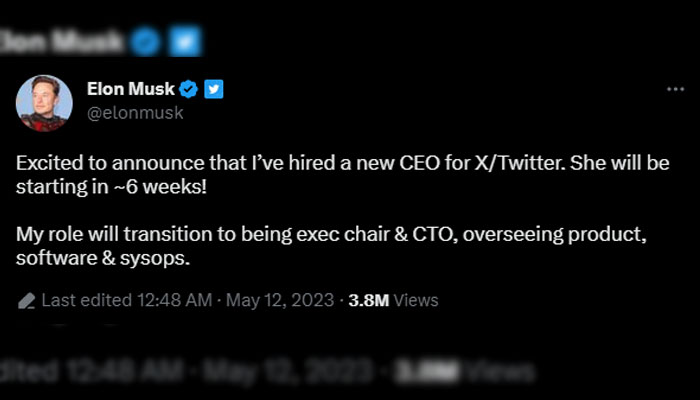 The news of a new CEO and Musk's shift in responsibilities has been well-received by investors, with Tesla's shares surging over 2%. Concerns had been raised by some Tesla investors that Musk's attention was divided due to his involvement in running Twitter, urging him to focus more on leading the electric vehicle company.
Musk, who also serves as CEO of SpaceX, completed the acquisition of Twitter for $44 billion in late October. Shortly after, he took swift action, dismissing top executives and implementing substantial layoffs within the company.
During Musk's tenure as CEO, Twitter's core advertising business suffered as several companies suspended their paid promotional campaigns due to an increase in offensive speech and hateful rhetoric on the platform, as highlighted by various advocacy groups. Musk's decisions to reinstate previously banned users and make controversial statements, including claims of media racism against white and Asian individuals, further stirred political controversy.
Additionally, Twitter experienced technical issues and faced significant layoffs under Musk's leadership, which he justified as essential for the company's financial well-being.
The shift in leadership and responsibilities at Twitter suggests an attempt to address the challenges faced by the platform and restore its advertising business. As Musk takes on a more focused role at Tesla, investors anticipate a positive impact on the electric vehicle company's trajectory.