Jordanians are rolling in jubilations ahead of the Arab country's first royal wedding since 1993 as Hussein bin Abdullah, Crown Prince and heir of King Abdullah II of Jordan, is set to marry Saudi Crown Prince Mohammed Bin Salman's cousin, Rajwa Khaled Al-Saif today (Thursday).
Extravagant preparations for the lavish marriage ceremony of 28-year-old Hussein with 29-year-old Saudi citizen Rajwa Khaled are underway for many days.
Crown Prince of Jordan Hussein
As a graduate of the Royal Military Academy Sandhurst, England, crown Crown Prince Hussein is a captain in the Jordan Armed Forces-Arab Army. He has also graduated from Georgetown University in Washington, DC.
The crown prince of Jordan was the youngest person to chair a United Nations Security Council meeting in 2015 about extremism and terrorism. 
He has been with his father on several diplomatic visits in foreign countries including meetings with the top world leaders such as President Joe Biden of the US.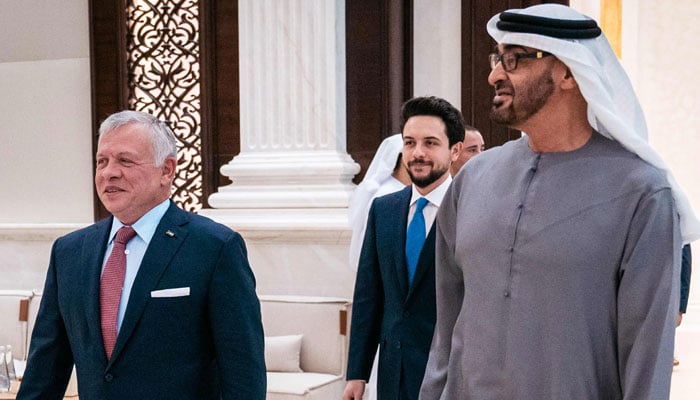 He also addressed the UN General Assembly in 2017.
Prince Hussein was not the heir earlier. He became the heir to the Jordanian throne after stripping his half-brother Prince Hamza from his title in 2004.
In a video message, Prince Hamzah claimed to be under house arrest for speaking about the corruption among the Jordanian leaders.
A letter after that was released in March 2022 which was claimed to be written by Prince Hamzah seeking his brother's forgiveness. The royal member has not been seen in public since.
Who is Rajwa Al-Saif?
Rajwa Al-Saif is a Saudi Arabian national. She is an architect by profession and is the youngest daughter of Saudi businessman Khalid bin Musaed bin Saif bin Abdulaziz al-Saif, with three older siblings: Faisal, Nayef, and Dana.
Rajwa studied at Syracuse University in New York and the Fashion Institute of Design and Merchandising in Los Angeles. She was employed at an architectural firm in Los Angeles before coming back to Riyadh.

Her mother is a member of the Al Sudairi family — Saudi Arabia's ruling family — which allowed her to have royal connections of her own. She is the second cousin of Saudi Crown Prince Mohammed Bin Salman.
There is little information available about how the couple met. After their engagement back in August, the crown princess participated in a number of royal activities including a prominent role in Princess Iman's wedding.