US poet Ada Limon wrote a poem which will be engraved on Nasa's space probe which is headed to the gas giant Jupiter's moon Europa, reported Reuters Thursday.

While recalling the time when she was asked to write the poem, Ada Limon said: "Where do you start a poem like that?"
The 47-year-old poet is serving for a second time as the Library of Congress top bard for a two-year term.
Just after one year Thursday, in a ceremony at the library, Limon Limon's 21-line creation, "In Praise of Mystery: A Poem for Europa," was made public and read aloud to the audience for the first time, receiving a standing ovation.
The entire poem, a free-verse ode consisting of seven three-line stanzas, or tercets, will be engraved in Limon's handwriting on the exterior of the Europa Clipper, which is scheduled to launch from Kennedy Space Center in Florida in October 2024.
The spacecraft, which is under construction at Nasa's Jet Propulsion Laboratory (JPL) near Los Angeles, is larger than any other probe by the US space agency space exploration mission. It should reach Jovian orbit in 2030 after a 1.6 billion-mile (2.6 billion km) journey.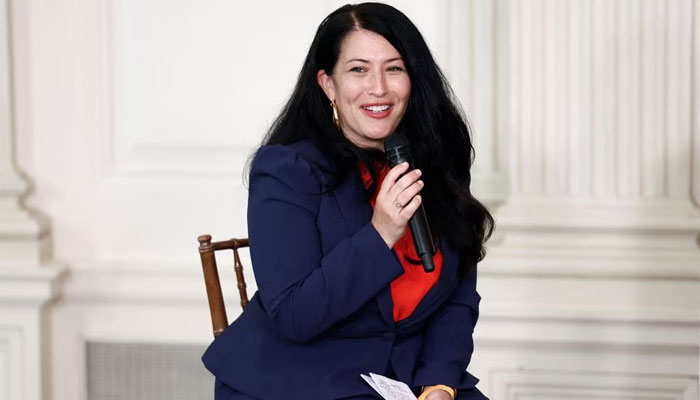 The solar-powered Clipper will carry a number of instruments to study the vast ocean of water that scientists strongly believe lies beneath Europa's icy crust, potentially harbouring conditions suitable for life.
During its mission, the spacecraft is likely to make nearly 50 fly-bys of Europa, rather than orbiting it, because doing so would bring it too close for too long to Jupiter's powerfully harsh radiation belts.
Commonality with Earth
Limon's "Poem for Europa" is less a meditation on science — though its first line seems to allude to a rocket launch — as it is an ode to nature and the awe it can inspire in humankind.
Except for its title, it does not mention Jupiter's icy moon explicitly but refers to its place among Jupiter's natural satellites, and to the commonality of water that it shares with Earth: "O second moon, we too are made of water, of vast and beckoning seas."
It concludes: "We, too are made of wonders, of great / and ordinary loves, of small invisible worlds / of a need to call out through the dark."
"I wanted to point back to the Earth, and I think the biggest part of the poem is that it unites those two things," she told Reuters in an interview in the Library of Congress poetry room hours before the piece was unveiled.
"It unites both space and this incredible planet that we live on."
A writer of Mexican ancestry, who won the National Book Critics Circle Award for her poetry collection "The Carrying," recounted great difficulty when she first tried composing the Europa poem at a writer's retreat in Hawaii.
Her breakthrough came from a suggestion from her husband, who she said encouraged her to "stop writing a Nasa poem" and to create "a poem that you would write" instead.
"That changed everything," she reckoned.
The only firm parameters Nasa gave her were to relate something about the mission, to make it understandable to readers as young as 9, and to write no more than 200 words.
At the Library of Congress on Thursday night, Limon said she considers the Europa Commission "the greatest honour and privilege of my life."
Reflecting earlier on what the assignment meant, Limon said she wonders at "all of the human eyes and human ears and human hearts that will receive this poem and ... it's the audience that really overwhelms me."
A writer of Mexican ancestry, Limon became the first Latina US poet laureate and the 24th individual to hold the title when she was first appointed in September 2022.