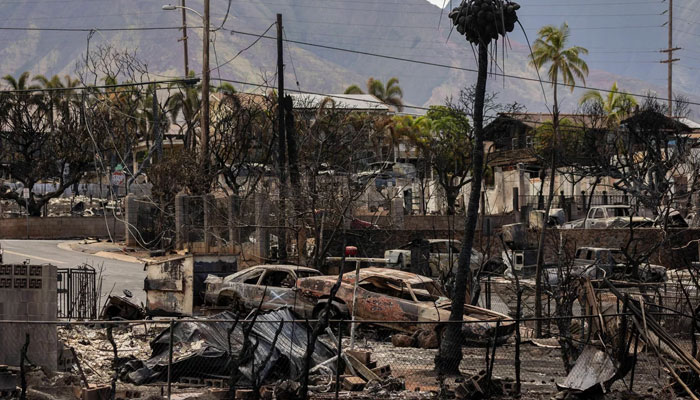 Lahaina, Hawaii, is reeling from the devastating aftermath of a relentless fire that tore through the scenic town on Maui island, leaving behind stories of heartbreak and resilience. 
Fueled by unyielding winds and exacerbated by climate change, the blaze caught residents off guard, transforming their lives in a matter of hours. 

Herbalist Spice Prince, who was full of excitement waiting for his upcoming perfume line launch, found himself entangled in a desperate struggle against both the inferno and the gusts that toppled the familiar trees and power lines. 
Exhausted and overwhelmed, he sought refuge in a restless sleep on the floor of his shop along with his dog. His abrupt awakening to the scent of smoke plunged him into a nightmare. "It just started getting so black," he recounted, his voice tinged with disbelief, describing the sinister darkness that enveloped the surroundings.
"I ran with my dog in my backpack, in my shorts and flip-flops," Prince said. "I've gathered medicines since I was six years old—I've lost it all," he said. "It's like I'm coming out of the womb, starting my life over with nothing."

Michiko Smith, a Lahaina native who experienced the fires firsthand, likened the fire-caused scene to the aftermath of a nuclear explosion.

Maranda Schossow's routine drive home to her Front Street apartment turned into a frantic escape flight as houses around her erupted into fiery chaos. The swift advance of the flames and the nightmarish sight of burning homes left her fully frightened. 
With burning ash descending upon her and palm trees alight, she fought through an eerie blackness, her thoughts racing in the midst of an impending catastrophe. "Everything around me started going completely black, like it was midnight," she recounted, her voice trembling, encapsulating the terror that gripped her.
Ke'eaumoku Kapu, the devoted director of Nā 'Aikāne o Maui Cultural Center, defied danger to return to the fire-ravaged locale, extending a helping hand to those who couldn't evacuate. Amid tears and a heavy heart, he spoke of the poignant losses, particularly the cultural artifacts that held profound significance. 
With emotion-laden words, he conveyed the magnitude of the devastation: "We lost things that can't ever be replaced," his voice catching as he reflected on the deep-rooted heritage that went up in smoke.