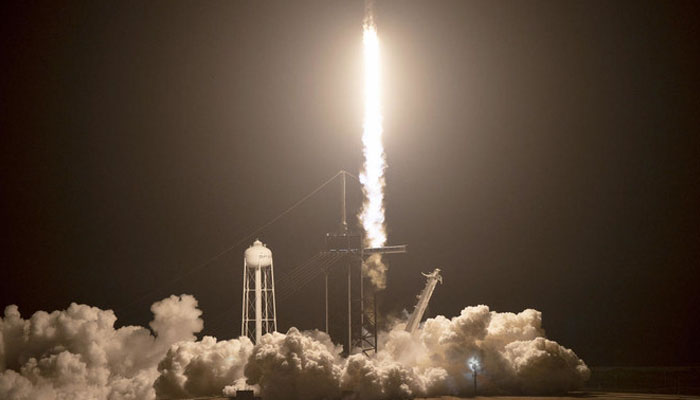 The eight crewed flight on Elon Musk's SpaceX Dragon spacecraft launched by NASA sent four astronauts from US, Denmark, Japan and Russia to International Space Station on Saturday.
The team of the Crew-7 mission, which also comprises the Russian Konstantin Borisov, Satoshi Furukawa, and Andreas Mogensen of Denmark, is led by American Jasmin Moghbeli.
At 3:27 a.m. (07:27 GMT), a Falcon 9 rocket carrying the Dragon spacecraft blasted out from Launch Complex 39A at NASA's Kennedy Space Centre in Florida in front of nearly 10,000 spectators.
"We have liftoff!" NASA said on X, formerly known as Twitter.
Soon after the Dragon vehicle broke from the Falcon 9 rocket with the crew in orbit, there were cheers in the mission control area, reported Al Jazeera.
"We may have four crew members on board from four different nations … but we're a united team with a common mission," Moghbeli said after the separation.
According to a blog post by NASA, the launch was postponed to Saturday to enable engineers an extra day to examine a part of the Crew Dragon capsule's environmental control and life support system.
The spacecraft will transport four crew members back to Earth in a few days after docking with the human outpost 400 kilometres (249 miles) above the planet in less than 24 hours.
It is Moghbeli and Borisov's first space voyage.
"This is something I've wanted to do for as long as I can remember," said Moghbeli, a naval test pilot, during a media call last month.
"One of the things I'm most excited about is looking back at our beautiful planet," added the 40-year-old American.
"Everyone who I've talked to who has flown already has said that was a life-changing perspective – and also floating around in space, it seems really fun."
The first routine voyage for Elon Musk's SpaceX to the orbital platform was launched in 2020, and Crew-7 is the seventh.
NASA pays SpaceX for the taxi service, as part of a commercial crew programme that it established to lessen reliance on Russian rockets for astronaut transportation after the space shuttle programme ended in 2011.
The second contracted private partner is Boeing, although its programme is still plagued with delays and technical issues. No crew has flown in it as of yet.
Borisov will be the third Russian to take to the skies in a SpaceX Crew Dragon spacecraft mounted atop a Falcon 9 rocket.