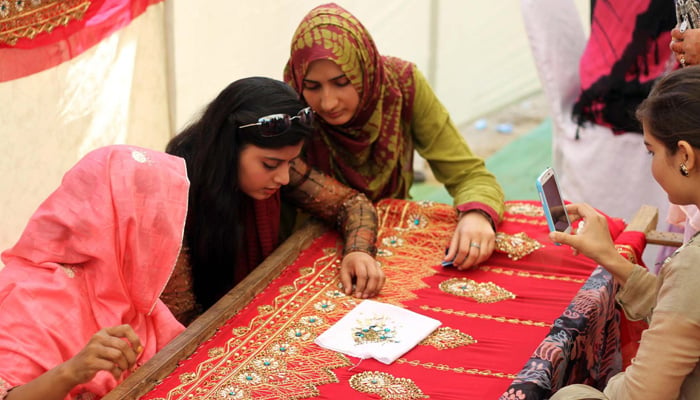 Central bank's decision to back those starting their own businesses.
SBP official says women can support families via this opportunity.
Bank will provide interest-free loans up to Rs0.5 million.
---
DERA ISMAIL KHAN: In its bid to ensure economic stability and female participation in the workforce, the State Bank of Pakistan (SBP) is offering interest-free loans to unemployed women to start their large-scale businesses.
The central bank's Dera Ismail Khan Deputy Chief Manager Fazal Muqeem made the announcement while addressing participants of a seminar 'Women bankability and banking on equality' at the Government Polytechnic Institute for Women in Dera Ismail Khan on Sunday.
Women, Muqeem said, will be able to support their families by starting their own businesses. He said the current wave of inflation has impacted the entire society and social strata. The SBP official added that it gets difficult for the poor to manage their everyday expenses due to their income resources.
The employment opportunities are also limited in the country, therefore starting of own business is the only way to handle such a situation, he added. He informed that the prime minister introduced different policies with the support of the central bank to make unemployed women productive citizens.
Under these policies, the bank accounts of unemployed women were being opened along with men on an equal basis so that they could be provided with interest-free loans up to Rs0.5 million.
Addressing the seminar, Assistant Director Muhammad Zubair said that today's era is of digital mobile app and citizens must take benefit from this facility. He said the citizens should become income tax filers which would make them avoid many taxes.
On this occasion, GPI for Women Principal Sara Khan thanked the guests from the SBP. She said their institution was working to make its students skillful so that they could become self-sufficient and useful citizens of society.
She said many women would benefit from this SBP's policy in the future. She expressed the hope that such type of useful seminars would be organised in the future so that poor and eligible women of DIK could benefit.
On this occasion, GPI for women Principal Sarah Khan, SBP Dera Ismail Khan Assistant Chief Manager Muhammad Amir Ejaz, Assistant Director Muhammad Zubair, Rizwanullah Shah, GPI (women) Placement Officer Zafar Awan, a good number of teachers and female students were present on the occasion.