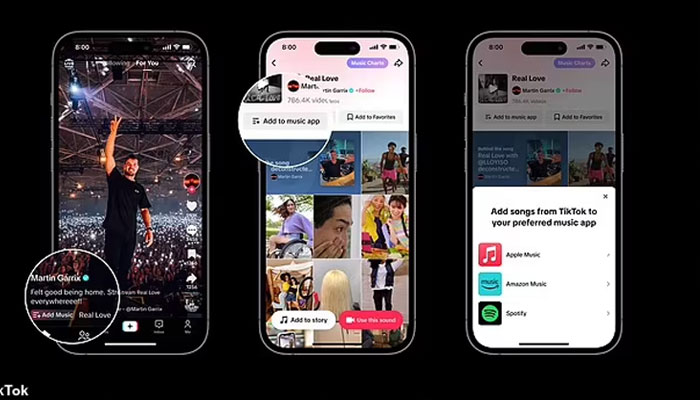 TikTok has introduced the 'Add to Music App' tool, revolutionising the process of discovering and saving songs featured in viral videos directly to Spotify or Amazon Music. 
Renowned for catapulting songs like Lil Nas X's 'Old Town Road' and Megan Thee Stallion's 'Savage' to global fame, TikTok has now simplified the journey from discovery to consumption.
The 'Add to Music App' feature, announced this week by TikTok, eliminates the need for users to frantically search for the names of catchy tunes featured in videos. 
Whether you're captivated by a dance trend or intrigued by a musical snippet, this tool allows you to seamlessly save the identified songs to your preferred music streaming service.
Ole Obermann, Global Head of Music Business Development at TikTok, emphasises the platform's influence as a music discovery and promotion powerhouse. 
'Add to Music App' serves as the bridge between TikTok's expansive global community and music streaming services, creating a direct link between discovery on the platform and consumption on Spotify or Amazon Music.
To utilise this innovative feature, users need to open the TikTok app, locate a video featuring a song they wish to save, and select the 'Add Song' option next to the track details at the bottom of the video. Subsequently, users can choose between Spotify or Amazon Music and specify whether to add the track to a new, existing, or default playlist.
Sten Garmark, Vice President and global Head of Consumer Experience at Spotify underscores the platform's commitment to providing users with seamless access to the audio they love. 
'Add to Music App' aims to minimise the effort required to enjoy preferred songs, ensuring that users can effortlessly save songs to Spotify for personalised listening experiences.
Currently available in the US and UK, the 'Add to Music App' feature is set for a broader rollout, promising a transformative and streamlined music discovery experience for users worldwide.