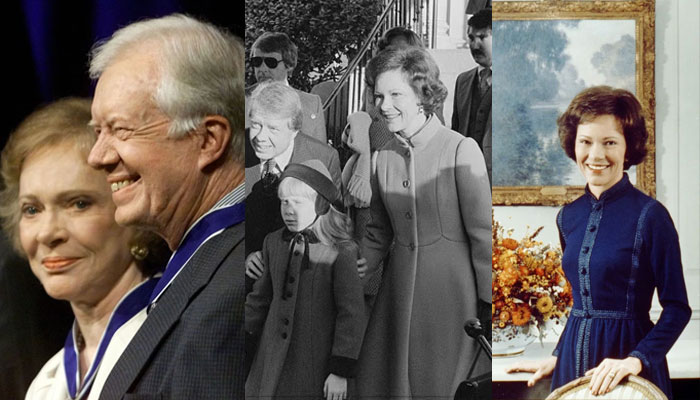 Rosalynn Carter, the wife of former President Jimmy Carter and a longtime mental health advocate and humanitarian, died at the age of 96 on Sunday in her home in Plains, surrounded by family, according to the Carter Center. 
The Carter Center announced Rosalynn Carter was in hospice care on Friday. Her family said earlier this year that she was diagnosed with dementia. Jimmy Carter, who is 99, has been in hospice care since February.
"Rosalynn was my equal partner in everything I ever accomplished," the former president said in a statement. "She gave me wise guidance and encouragement when I needed it. As long as Rosalynn was in the world, I always knew somebody loved and supported me."
President Joe Biden and first lady Jill Biden remembered the "hope, warmth and optimism" of the former first lady, in a joint statement released Sunday. 
They praised Carter's support for equal rights, as well as her advocacy on mental health issues and other causes. The lives of countless people, the White House statement said, are "better, fuller, and brighter because of the life and legacy of Rosalynn Carter."
Former President George W Bush and former first lady Laura Bush also praised Rosalynn Carter on Sunday, calling her "a woman of dignity and strength."
"There was no greater advocate of President Carter, and their partnership set a wonderful example of loyalty and fidelity. She leaves behind an important legacy in her work to destigmatize mental health. 
We join our fellow citizens in sending our condolences to President Carter and their family," the two said in a prepared statement.
Rosalynn Carter was first lady from 1977 to 1981 and was dubbed the "Steel Magnolia" by the press during her years in the White House for the toughness she exhibited behind the gentle persona she outwardly embraced.
Throughout Jimmy Carter's time in public office, she was her husband's closest political adviser. She also revolutionized and professionalized the first lady role by expanding the office beyond hostess duties.