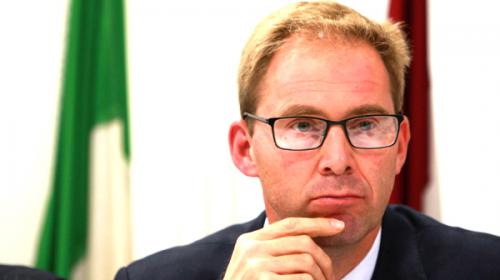 LONDON: British Minister for Pakistan Tobias Ellwood has said its clear that the operation by the Rangers against criminals in Karachi is "having its mark" and the security situation in Pakistan has improved a great deal as compared to what it was like a year ago.
In an interview with our correspondent after visiting Karachi and Islamabad last week, Ellwood, who became the first British minister to visit Karachi after 2012, said that in Karachi as well as in Pakistan, militant attacks are down from five a day to one per day or even less which shows that the operation against militants is going on the right path.
The minister's remarks show that the international community - especially important countries like Britain - view positively the drive against hardcore criminal elements in Karachi who had taken the city hostages for years, blocking its progress and peace.
The British minister told Geo News that the fact he was able to visit Karachi himself is a testimony that the security situation has improved, "and it is a testimony of how things are changing."
Ellwood said that the UK government fully supported Pakistani Prime Minister Nawaz Sharif's commitment to "make Pakistan a safe place and improve its governance, security and infrastructure."
He went on to say that Karachi was a gateway to Asia and UK was very interested in playing its role in developing the city so that its ambitions and potential could be realised. He said that Britain desires to be of assistance in the development plans of a "bustling and thriving mega city."
He further said cities as big as Karachi face many challenges but for their vision to prosper it is important that there should be safety all around as well as employment for everyone.
He also compared Karachi with London and said that London was able to provide most people safety and security and showed that "we do not implode with sheer weight of ourselves and we are welcoming more people to be with us while not getting congested or disorganised."
The British Minister for Pakistan added that he will speak to London mayor Boris Johnson regarding Karachi and see what are the success stories that can be shared with Karachi. He further said that by the end of this year a large delegation of British businesses will visit Pakistan to explore the opportunities that the country offers.
He went on to say that UK and Pakistan were tied in great bilateral relations and this was valued deeply and reflected through the close connections the two countries have at many levels.
When asked about Pakistan's allegation that British soil has been used by Muttahida Qaumi Movement (MQM) leader Altaf Hussain to incite violence in Pakistan and what he made of the latest hate speech inquiry by Scotland Yard, he said that police were carrying out their investigations independently and political government did not have any influence over policing matters.
Ellwood added that the British army has "growing relations with Pakistan's military."
He appreciated the drive against militancy by the Pakistan army and said that it was encouraging that through education programmes, young people were being stopped from becoming extremists.