KARACHI: Supporters overjoyed on hearing reports of a landslide victory of Muttahida Qaumi Movement's (MQM) candidate Kanwar Naveed Jameel in the by-election of National Assembly's NA-246 seat late on Thursday.

Following MQM chief Altaf Hussain's appeal, party supporters had gathered in large numbers at Azizabad's Jinnah Ground to celebrate Kanwar Naveed Jameel's anticipated victory.

According to official results announced by Returning Officer Nadeem Haider, MQM's Kanwar Naveed bagged 95,644 votes while his closest rival Imran Ismail of Pakistan Tehreek-e-Insaf (PTI) managed to secure 24,821 votes.

Rashid Naseem of Jamaat-e-Islami (JI) came third with 9056 votes.

According to RO, a total number of registered voters in the constituency is 357,801 while 131,424 votes were cast in the by-election with 36.72 per cent turn out.

He said 1129 votes were rejected on various grounds.

Strict security measures had been made for smooth balloting in the electoral contest. Over 9,000 Rangers and police personnel were deployed at 213 polling stations.

All polling stations were declared sensitive, while polling stations in Liaquatabad, Sharifabad and Bandhani Colony had been declared extremely sensitive.

A public holiday was announced in Karachi's district Central today to allow citizens to cast their votes.

Pillion riding ban was effective in the district central while ban on it was lifted in other parts of the city.

Authorities had set up a command and control room at the office of the Deputy Commissioner Central and it was handed over to police and Rangers.

Twelve candidates including MQM's Kanwar Naveed Jameel, PTI's Imran Ismail and Jamaat-i-Islami's Rashid Naseem were in the run for NA-246.

By-election in the constituency was being held after the seat was vacated by Nabil Gabol when he resigned from the MQM.



---
END OF LIVE UPDATES
---
23:03
Speaking in Geo News program "Aaj Shahzeb Khanzada Kay Saath", MQM's candidate for NA-246 by-poll Kanwar said the attack on PTI camp in Karimabad was regrettable. He, however, added that the PTI leaders' attitude towards MQM was insulting in the wake of today's by-election.
PTI's candidate Imran Ismail, in the same show, said that his party might have lost the by-poll but has succeeded in eliminating the atmosphere of fear from Karachi.
---
22:30
MQM chief Altaf Hussain urges his party workers to respect political rivals while celebrating victory in NA-246- by-polls. In a statement issued here, he appealed to the people not to destroy flags or posters of political opponents.
Meanwhile referring to the Karimabad incient, MQM's Khawaja Izharul Hasan said it was inappropriate to hold his party responsible for every untoward incident.
Details here: Celebrate but don't disrespect rivals, Altaf tells workers
---
21:50
PTI spokesperson Shireen Mazari advises the Muttahida Qaumi Movement to abandon what she called the 'politics of intolerance'. She, in a statement, strongly condemned the torching of PTI flag by 'the workers of MQM'.
"Our workers are still peaceful and official results of NA-246 by-polls are yet to be announced", she added.
Details here: Mazari advises MQM to shun 'politics of intolerance'
---
21:32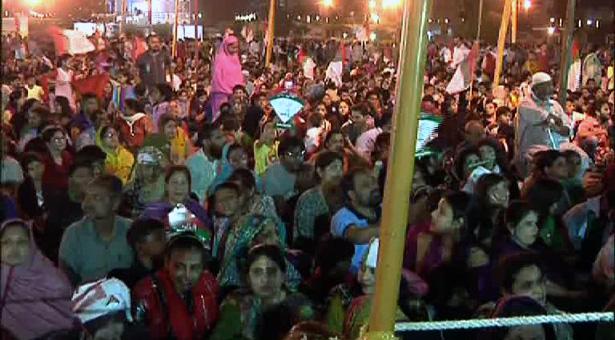 Following MQM chief Altaf Hussain's appeal, party supporters have gathered in large numbers at Azizabad's Jinnah Ground to celebrate Kanwar Naveed Jameel's anticipated victory in today's by-elections in NA-246 constituency of the city.
Hussain is expected to address the gathering later in the evening.
---
21:14
Muttahida Qaumi Movement (MQM) leader Babar Ghauri congratulates the public for his party candidate Kanwar Naveed's victory in NA-246 by-poll in 'advance'.
---
20:59
Several people were arrested after a clash in which a PTI flag was torched and its camp office was surrounded by reportedly angry MQM activists. Several PTI workers and supporters were trapped inside an election camp at Karimabad.
The normalcy prevailed after MQM leaders Faisal Sabzwari and Haider Abbas Rizvi reached at the site and urged workers to show restraint and stay away from the PTI camp.
Details here: Several arrested after MQM, PTI activists clash in Karimabad
---
18:30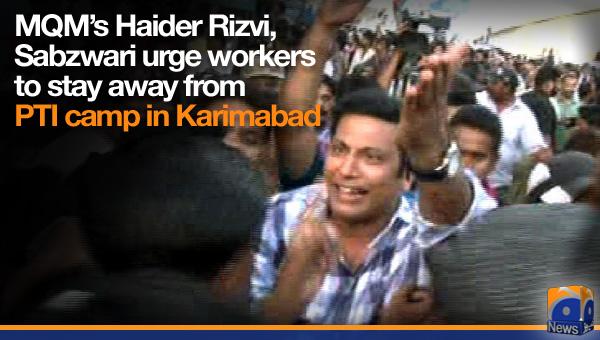 MQM and PTI workers chanted slogans against each other in Karimabad area of the constituency. There was a clash outside the PTI office in the area. MQM leaders including Faisal Sabzwari and Haider Abbas Rizvi are at the site and have appealed to workers to remain calm.
---
17:10
After polling concluded MQM leader Haider Abbas Rizvi appeared alongside PTI candidate Imran Ismail. Haider Abbas said they were "contesting and not fighting the election."
Imran Islami thanked Haider Abbas for visiting the PTI camp and then brining him (Imran) to the MQM camp and offering him tea. "I wish this would have happened before so the election atmosphere would have been better," Ismail said.
---
17:05
ECP spokesman announces that voting time was not being extended in NA-246.
---
17:00
Polling concludes in NA-246. Those people who are already present inside polling stations will be allowed to cast their votes.
---
16:32
Five supporters of the same candidate were arrested by Rangers from KDA School FB Area. The five were engaged in an altercation with supporters of another candidate.
---
16:18
Commissioner Karachi Shaoib Siddiqui says the NA-246 by-poll were being conducted in a free and fair manner, and hoped they would positively influence future elections.
Speaking to reporters while visiting a polling station, the commissioner said that he was in constant contact with the Election Commission, and that the commission regularly monitoring the polls.
He added that efforts would be made so that every voter gets the chance to exercise their right to vote.
---
16:06
Sources say a suspicious man has been arrested from polling station number 182 in NA-246.
The young man was reported to be recording a video using his mobile phone camera. Voters are not allowed to bring his mobile phones inside polling stations.
---
15:40
The Election Commission has sought opinions from District Returning Officers over extension of polling time. The DROs have replied by saying that there is no need to extend polling time at the moment.
---
15:15
PTI leader Arif Alvi says that the PTI voter is a 'silent voter' and is casting his ballot for the party without publicly showing support.
Speaking at a press conference alongside a leader of the Majlis-e-Wahdat-e-Muslimeen (MWM), the PTI leader said that the lower the number of votes cast for the MQM as compared to its previous 140,000, the bigger the victory will be for the PTI.
PTI leader Ali Zaidi remarked that if only one vote was being cast every hour, does that mean only eight votes will be cast in eight hours.
MWM leader Ali Naqvi reiterated the party's support for the PTI in the by-election.
---
14:50
MQM candidate Kanwar Naveed Jameel has sent a letter to the Chief Election Commissioner complaining of irregularities at polling stations in NA-246 by-election.
---
14:35
MQM Chief Altaf Hussain says he is confident that his party will secure victory in NA-246 with a large margin.
Addressing party workers at Nine-Zero, Altaf Hussain called on the Election Commission to extend the time of voting. "Only two hours are left and supporters are still standing in long queues."
The MQM chief added that the use of force could stop them but not remove them from the hearts and minds of the people.
Altaf Hussain alleged people from opposing parties in the election were taking part in illegal and unconstitutional acts since the morning.
---
14:30
Rangers have arrested two more members of polling staff for casting bogus votes.
Assistant Presiding Officer Syed Jawed Siddiqui and a woman assistant presiding officer, whose name was not given, were held for assisting in casting bogus votes at polling stations in Sharifabad.
Both were sentenced to prison by a Rangers magistrate.
So far, four people have been held for casting bogus votes, including one presiding officer, two assistant presiding officers, and one other man.
---
13:45
Chief Minister Sindh Qaim Ali Shah says the ban on pillion riding was imposed without his consent. Shah said the law and order situation was satisfactory in the city. The MQM has been critical of the decision to ban pillion riding as it creates difficulties for voters.
---
13:40
90-year-old Mrs Ishrat Alvi cast her vote at a polling station. Mrs Alvi was brought to the polling station in a wheelchair and carried inside by her sons. "Voting is my right," Mrs Alvi said while speaking to Geo News.
---
13:25
Presiding Officer Majid Ali and another person were arrested by Rangers from Delhi School for trying to cast bogus votes.
Exercising their Magistrate rights, Rangers sentenced Majid Ali to three months in prison and Rs5,000 fine. The other person identified as Rehan Ahmed has been sentenced to six months in prison and Rs5,000 fine.
---
13:20
MQM, JI workers chanted slogans against each other in the Sharifabad area of NA-246. The slogans were chanted outside Royal School during a visit of JI candidate Rashid Naseem.
---
12:57PM
PTI Chairman Imran Khan said the MQM knew that they would not be receiving 140,000 votes and were thus making excuses of delays in the voting process.
Speaking to reporters in Islamabad, Khan said it was historic that elections were being held in NA-246 as before votes would be cast sitting at home.
Khan added that the deployment of Rangers was essential to holding polls in NA-246. Imran Khan alleged that an atmosphere of fear was being created to deter PTI and JI voters.
---
12:50PM
The JI has written another letter alleging that irregularities have been taking place at polling stations since morning. JI alleges that polling staff was appointed on the MQM's recommendation and are causing delays.
---
12:35PM
Imran Khan called PTI candidate Imran Ismail in NA-246. Imran Khan congratulated the PTI candidate for the bravery he exhibited during the election campaign.
The PTI chairman said people wanted to see Karachi change during the telephone conversation with Imran Ismail.
---
12:25PM
MQM supporters came face to face in Azizabad with supporters of the PTI led by Nadia Rabbani. Both sides chanted slogans in support of their parties.
PTI leader Nadia Rabbani said she was stopped from entering the polling station.
"I have visited five to six polling stations and have also cast my own vote. We are peaceful and are encouraging citizens to come out and vote.
She claimed that MQM workers were scared and were harassing voters from exercising their right to vote.
---
12:15PM
The Muttahida Qaumi Movement (MQM) complained of delays in the voting process during the NA-246 by-election.
During a news conference, MQM leader Farooq Sattar alleged that thousands of voters were being stopped from casting their ballot and being deprived of their constitutional right. "This is an attempt to decrease the MQMs lead and margin of victory."
Sattar also called upon the Election Commission to extend voting time by three hours.
---
11:58AM
MQM candidate Kunwar Naveed Jameel claims he was not allowed to enter a polling station set up at a government school in Liaquatabad number 9.
The MQM candidate said he was not given any reason for not being allowed inside the polling station.
---
11:52AM
Rangers have taken two people into custody from the Muslim Government School in FB Area. The two people were present outside the polling station set-up in the school.
---
11:44AM
IGP Sindh Ghullam Haider Jamali spoke to reporters and expressed his satisfaction with security arrangements made in NA-246.
Jamali said he had visited several polling stations and there were no issues. "Elections are being conducted peacefully. I will make sure if there are any problems they will be resolved immediately."
The IGP further said the police was providing security and contingents were present at polling stations.
---
11:37AM
MQM workers chant slogans against PTI candidate Imran Ismail in Karimabad
---
11:25AM
The JI has submitted a complaint regarding NA-246 to the Chief Election Commissioner. The complaint states that MQM workers do not have ECP issued cards at the Riaz Girls College. There is no privacy to cast votes and it does not seem as if the officials are in control of the polling station, the complaint alleges.
---
11:11AM
The Mutthaida Qaumi Movement (MQM) will hold a press conference at Jinnah Ground. At statement issued by the party states the press conference will be held a short while from now.
---
11:05AM
PTI leader Arif Alvi said the MQM was using the technique of relay system which means that a person only casts a piece of paper and comes out with the blank ballot paper. This blank ballot is stamped and cast by another person. "They do not have faith in their people."
Alvi further said the election result should be accepted if there isn't any rigging. "If there is rigging it is the peoples responsibility to raise their voice." Mr Alvi said it seemed the voting process was peaceful and he urged voters to come out have their voice heard.
---
10:45AM
Visiting polling stations to review arrangements, MQM candidate Kanwar Naveed Jameel expressed his reservations over the change of polling stations overnight.
"The change of polling stations overnight, and placing several polling booths in the same room, all these are attempts to cause difficulties for the voters to influence them into not coming to cast their vote. This is an attempt to ensure that less votes are cast and to create an impression that the MQM's vote bank has declined," he said.
---
10:18AM
Election Comissioner Sindh Tanveer Zaki says polling has begun at all polling stations.
"There were complaints at some polling stations. But I have verified from all presiding officers in the constituency and can confirm now that polling is underway at all 213 polling stations," says Election Commissioner Sindh Tanveer Zaki.
---
10:05AM
VIDEO: Despite old age, 82-year-old Nazeer arrives at polling station to cast his vote
---
9:50AM
DG Rangers Sindh Bilal Akbar visits DC Office Central and meets returning officers. Discusses polling and security arrangements with RO and DRO for the by-election.
---
9:34AM
PTI candidate Imran Ismail reached his party's camp office in Karimabad to oversee arrangements.
Speaking to our reporter earlier, Ismail said he is very hopeful that he will win by a big margin in the by-poll. However, he said that if an MQM or JI candidate wins instead, he will go to their office to congratulate them himself.
"But I expect that PTI will win today and everyone will come to my residence to congratulate me," said Ismail.
---
9:08AM
VIDEO: JI candidate Rashid Naseem speaks to Geo News as he visits polling stations.
---
8:45AM
VIDEO: Voters express their views on polling arrangements
---
8:00AM
Voters begin casting their ballots at at 213 polling stations across the constituency. Strict security in place, Rangers personnel stationed both inside and outside the polling stations.