Such is the power of cricket – it not only provides thrilling entertainment, but also unites the nation. Cricket fans are feeling patriotic with the next level of adrenaline rush as they wait for the second season of the spectacular Kashmir Premier League (KPL).
After the groundbreaking success of KPL season 1, the league is all set to return with a bang, with matches starting from August 13th.
Prominent names of Pakistan cricket including the legendary Shahid Khan Afridi, Shoaib Malik, Sarfaraz Ahmed, Kamran Akmal, Ahmed Shahzad, and Mohammad Hafeez will be seen in action at the iconic Muzaffarabad Cricket Stadium.
Fans worldwide are raving about the initiative because other than fostering high-end cricketing skills, the KPL has found immense success in bringing communities together to appreciate Kashmiri cricketers for their talent. It has brought much-needed attention to the region, putting Kashmir on the global map. The platform gave the uber-talented Kashmiri players a chance to showcase their talent and tell the world that they too have what it takes to compete on an international level.
Sponsored by the reputable Kingdom Valley, cricket aficionados will experience a whole new vibe as the league propels the national sports brand beyond borders. The KPL brand, backed by the Pakistani Cricket Board (PCB) will continue to shine as Pakistan celebrates 75 years of independence in style.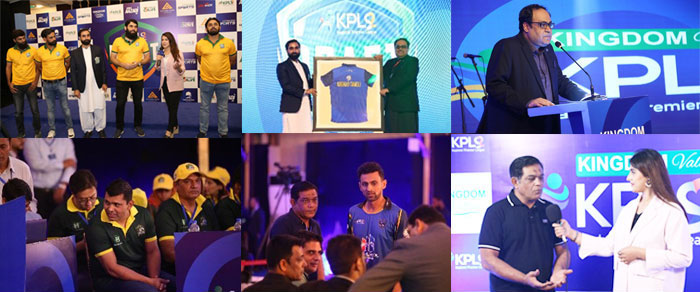 #KheloAazadiSe is the official message of the peppy, energetic, and passionate official anthem of KPL 2. Sung by the dynamic duo, Aima Baig and Sahir Ali Bagga, this groovy anthem hits the right chords to get you in the right mood. Interestingly, while the song ignites passion in the listeners, it also spreads the message of love, peace, and harmony.
The celebratory and symbolic #KingdomValleyKPL is not only winning hearts, but also creating a ripple effect of unity, togetherness, and patriotism, which is in line with the ecstasy and jubilation felt by Pakistanis as the nation turns 75.
Having attracted more than 43.1 million viewers around the globe, the KPL has become one of the most viewed leagues in the world, and the broadcasting footprint of the league has expanded beyond expectations. The initiative started off as an attempt toward a better and prosperous Kashmir. And now it has become the anthem of determination., a sense of togetherness, and a ray of hope for the courageous people of Kashmir.
Whether you're a die hard cricket fan or just looking to check out something new, make sure to tune in and catch all the action!