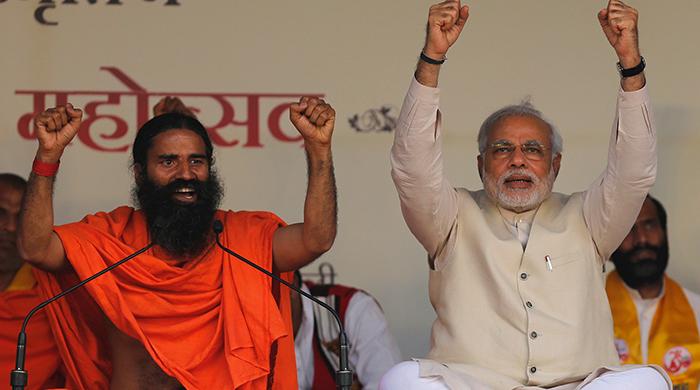 KOLKATA: India's advertising watchdog says a company run by yoga practitioner Baba Ramdev, an active fund-raiser for Prime Minister Narendra Modi, has violated laws by claiming its powdered herbs increased male libido.
The Advertising Standards Council of India (ASCI), which tracks brand promotional activities within the country for possible breach of sectoral code, has also found fault with several more Patanjali campaigns.
In its bulletin for April, ASCI said the claims made on the packets of Patanjali's Youvan Gold Plus powdered herbs (churan) were unsubstantiated and implied it enhanced sexual pleasure.
"An authentic powder booster Ayurvedic medicine useful in physical and sexual weakness," the product description on the packet says.
This "improves libido, vigour and vitality, sexual power", and "keeps you always healthy, energetic and gives you total satisfaction of married life", the description goes on to claim.
"This means the product is meant for increasing sexual gratification. Such claims are in breach of the law as they violate the Drugs and Magic Remedies Act," ASCI Secretary General Shweta Purandare told this reporter.
Two more Patanjali products have been censured by ASCI for making misleading claims in April, including one that "wrongfully" said its wheat noodle contained no oil.
Incidentally, Patanjali Atta Noodle has been positioned as a direct competitor to market leader Maggi.
This is not the first time that Ramdev's company – which announced sales of $740 million in 2014-15 – has been found guilty of transgressing India's code of advertising ethics.
For instance, it was hauled up in January for claiming its hair oil stopped hair loss and prevented greying; ASCI said the claim was not substantiated.
Ramdev is an ardent backer of India's Bharatiya Janata Party (BJP) government, and is known for using his yoga camps to raise election funds for Modi's party.
He even enjoys a cabinet rank status in the BJP-ruled Haryana, though his operations are based in the neighbouring state of Uttarakhand.
— Anik Basu is a Kolkata-based journalist contributing for Geo.tv
(Photo by Reuters)