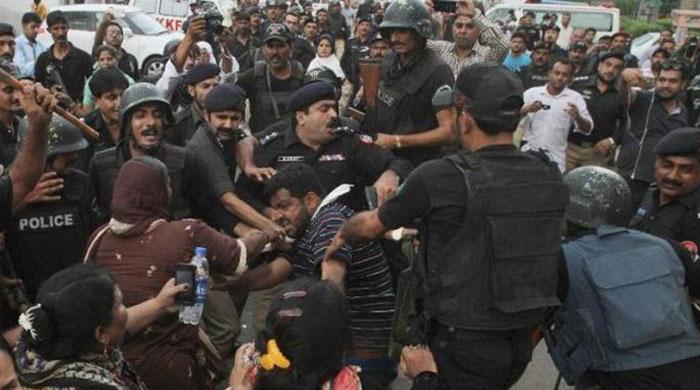 LONDON: Britain's Home Office has said that the Metropolitan Police is assessing the contents of Altaf Hussain's 22nd August speech in which, it is alleged, the Muttahida Qaumi Movement (MQM) founder incited violence and hatred by ordering his supporters to attack media houses.
Geo News understands that Pakistan sent a dossier of Altaf Hussain's speeches to the investigators at the Scotland Yard two weeks ago which is currently receiving attention.
Answering questions asked by Barrister Amjad Malik, who heads the Association of Pakistani Lawyers (UK), the Home Office said that the Metropolitan Police have already confirmed that they are assessing "a speech given by an individual associated with the MQM to ascertain if any crimes have been committed under appropriate UK legislation".
The Home Office said: "All speakers must stay within the law, including on matters concerning the glorification of terrorism and incitement of racial and religious hatred. Where individuals breach these laws, the police will take action using comprehensive powers available to them."
The Home Office statement said that "the actual attacks in Karachi are being investigated by the Karachi authorities".
Barrister Amjad Malik had written to British Prime Minister Theresa May a day after Altaf Hussain's speech, requesting action under any of the following laws: The Racial & Religious Hatred Act 2006; Crime & Disorder Act 1998; under section 59 of the Terrorism Act 2008; Public Order Act 1998; Terrorism Act 2000; Proceeds of Crime Act 2002 and the Offences against Persons Act.
The original letter to the PM said: "It was an ugly and unpleasant, condemnable display of hostility incited by the MQM leader, Altaf Hussain, who has done similar acts before in the last 3 years. Various legal statutory instruments make such behaviour unlawful including Section 127 of the Communications Act 2003 and Race and Religious Hatred Act along with Terrorism Act 2000 makes it an offence to send a message by means of a public electronic communications network which is grossly offensive, or of an indecent, obscene or menacing character."
When contacted by Geo News, a spokesman for Scotland Yard said: "We are, in consultation with the CPS, assessing the contents of a speech given by an individual associated with Muttahida Qaumi Movement (MQM) in August 2016 to ascertain if any crimes have been committed under appropriate UK legislation. The investigation into other speeches previously broadcast in Pakistan by this individual is ongoing."
Separately, a meeting was held on Wednesday at the Southwark police station between solicitor Mahtab Aziz, Tariq Mahmood, and Habib Jan over several complaints registered against Altaf Hussain after his August 22nd speech. Mahtab Aziz told Geo News that they had met two senior police officers from SO15 – the counter terrorism unit – who assured that all the evidence will be forwarded to the crown prosecution service for a decision.