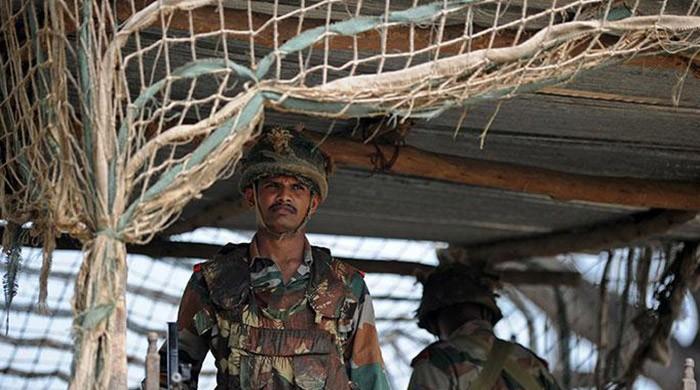 NEW DELHI: Days after an Indian Border Security Force (BSF) soldier shamed the Modi government by sharing the deplorable conditions they were made to work in, several soldiers from different security forces have spoken up about long hours, poor conditions, inadequate time off, and unequal pay.
The soldiers belong to different forces of the Central Armed Police Forces – Border Security Force (BSF), Central Reserve Police Force (CRPF), Central Industrial Security Force (CISF), Indo-Tibetan Border Police (ITBP), and Sashastra Seema Bal (SSB), the five security forces under India's Ministry of Home Affairs.
The latest outcry has come from a soldier belonging to the SSB, who has released a video speaking about the level of inequality in pay, facilities, time-off, and ration quality for personnel of the Army and the central armed police forces.
"Soldiers of the armed forces do not get the same treatment and facilities as the Army. We don't get leave, and nobody even pays heed to our issues," says the SSB soldier, who recorded the video with his face covered on fear of being punished for speaking out.
The soldier even complained that a political leader was trying to grab land that he owns, but his complaints have so far gone unanswered even by Prime Minister Narendra Modi.
The video came as a Central Industrial Security Force (CISF) soldier gunned down four of his senior officers on Thursday in an apparent row over leave.
Soldier tortured for raising issue with PM Modi
In another video uploaded on youtube on the 12th of January Lance Naik Yagya Pratap Singh deployed in the 42 Infantry Brigade in Dehradun claimed that after he wrote a letter to the Indian Prime Minister and other officials apprising them of some malpractices of senior army officials, his brigade was called by the PMO who ordered an enquiry into the matter.
"I had written an application to the PM in which I said that soldiers, who act as sahayaks, should not be made to polish shoes of officers," he said.
However, the brigade initiated an enquiry of their own into the matter which could result in a potential court martial for the jawan. Pratap Singh alleged that he had been tortured after the Prime Minister's Office had written back to the Brigade over the matter, "the Brigadier... put pressure on me and tortured me to such a level that I could have taken an extreme step. But I will not commit suicide or act in any way or against anyone that will tarnish the name of my service."
The trend of posting videos exposing the deplorable conditions that soldiers in India are forced to work under began when Tej Bahadur Yadav posted a video earlier this month and was then relegated to a plumber's job after he accused the military high-ups of selling supplies meant for troops.