Blinded by pellets fired by Indian soldiers, a teenage Kashmiri girl has become the center of attention for global media for narrating the barbaric treatment meted out to her by the brutal occupying forces.
Ifra Shakour, 14, says there are some things that she would never forget about October 31, 2016, and the hours that she was left unconscious after being tortured by Indian forces.

Ifra Shakour — Photo: Al Jazeera
She remembers preparing for her eighth-grade exams. She recalls hearing bursts of tear gas shells coming from the local market and the feeling of dread when she realised that her little brother wasn't home.

Ifra Shakour - Photo: Al Jazeera
"I asked my mother what was happening outside," the 14-year-old told Al Jazeera in a documentary 'Kashmir: Born To Fight'. "I didn't know what was going on. I closed my books and went out."
Ifra only made it to her front gate and the last thing she saw were two uniformed policemen running towards her.
"When I saw them, I got scared. That's why I ran," she told. "They caught me by my hair and dragged me. And then they beat me with their baton on my arm. But still they weren't satisfied so they shot me with a pellet gun."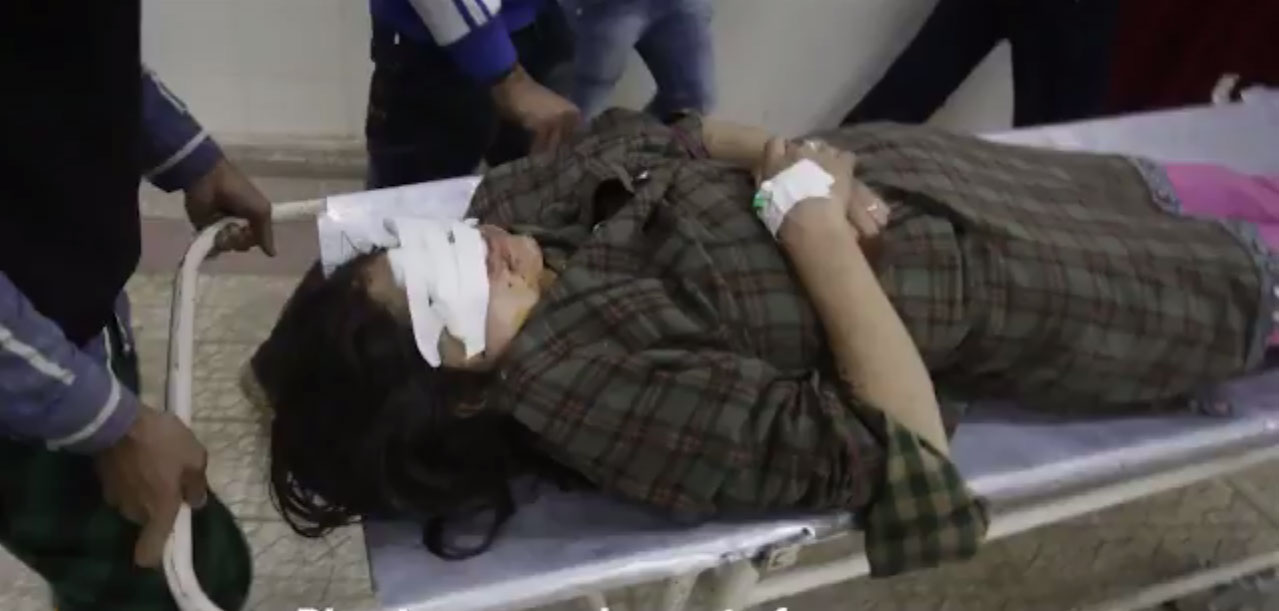 Photo: Al Jazeera
This pump action shotgun has been the weapon of choice for Indian forces in occupied valley for years. Classified as "non-lethal", Indian troops use it to maim rather than kill innocent Kashmiris.

Occupying Indian troops - Photo: Al Jazeera
Ifra said the policemen shot her at point-blank range. "After I was hit I couldn't see anything. Blood was coming out of my eyes."

Ifra Shakour - Photo: Al Jazeera
"All I could think about was seeing again so I can study, go out with friends, teachers, my family and neighbours. I used to pray to God to make me see again so I can be a doctor," she said.
Her shooting came during the worst protests in Indian-occupied Kashmir in six years, triggered by the martyrdom of Burhan Wani - a pro-independence Kashmiri youth leader.
Wani was an icon and a social media star with thousands of online followers. His death sent shockwaves across the occupied Himalayan territory. Angry protesters flooded the streets, pelting rocks at security forces and calling for independence.
The subsequent crackdown by the Indian forces was swift and violent. Hospitals struggled to cope with the dead and injured. Thousands of Kashmiris had been severely beaten, while a large number of them suffered pellet wounds.

Ifra wishes to become a doctor - Photo: Al Jazeera

Photo: Al Jazeera
Some, like Ifra, were completely blind.
"She was screaming," said her aunt, Rubeena Banu. "There was blood coming out of her eyes, her ears, her nose. I was so stressed. I couldn't look at her. I thought she would die."
Ifra had three pellets in her right eye and two in her left.
"She had gone out to bring her brother home because there was firing and fighting going on," Banu told Al Jazeera. "What did she do wrong? She didn't have a rock or a gun in her hand. She had just gone to get her brother."
The Indian government has resisted increasing pressure to ban the use of pellet guns against protesters and civilians.

Kashmiri women at a protest against continuing Indian atrocities - Photo: Al Jazeera
For decades, human rights lawyers have been recording complaints against security forces, including cases of extrajudicial killings, torture in custody and rape. They believe abuses in occupied Kashmir are 'systemic'.
"There is absolutely no democracy here, there is no rule of law here, there is no accountability here," Al Jazeera quoted Mirwaiz Umar Farooq, a pro-independence leader, as saying.

Photo: Al Jazeera
"Every time [there is a protest] the reaction is brute force. Kill the Kashmiris, maim them, blind them."
Al Jazeera says it also requested interviews with the police, the military and the Indian government, but none agreed.
Ifra's family does not have any hope that her case will be investigated and have not lodged a police complaint.
"If we complain, who knows? Maybe they'll pick up my little nephew and put him in jail," said Ifra's aunt, Rubeena. "That's why we're scared and we won't complain.
"Today, this happened to my niece. Another day, it will happen to someone else, and someone else the day after that. That's why we say we want an independent Kashmir."
The girl has had three surgeries to restore her vision, but her sight is still limited. Her relatives say she has stopped studying and barely eats. She spends most of her days sitting alone in the courtyard outside her home.
"My friend used to come to see me every morning, but now she doesn't come," she said. "I don't know what has happened. She's busy studying and going to school. She'll graduate, but what will I do?"