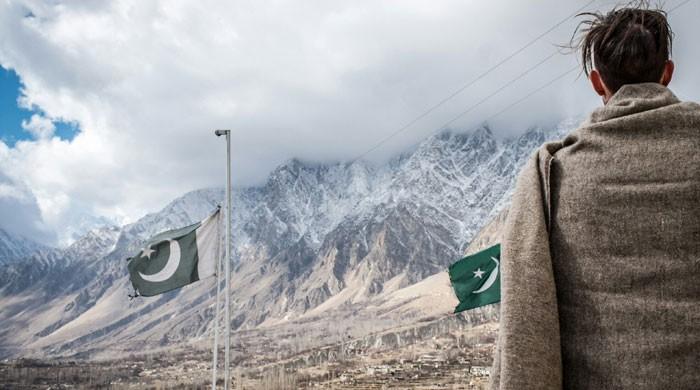 In a world, where Pakistan is deemed unsafe for tourists (with the major point of distinction being cricket) an Australian biker is absolutely in love with the country for its culture.
In his blog, this biker who identifies as Dutchie, snubs all the ill pre-conceived notions about Pakistan. Written in a witty and humorous manner, he narrates his eventful journey, saying how he failed to spot a single terrorist, although mentioning how locals did 'kill him with kindness'.
Coming to another common concern among tourists, he said that he did get kidnapped but by 'cheeky old blokes who smoke cigarettes and play cards in the street corner hidden from their wives.'
One of the amusing statements he makes on the subject of being robbed, the biker said that he robbed Pakistani people far more than they could. He narrates how he was generously treated to countless cups of tea with biscuits.
The biker has traveled to Balochistan, Lahore, Karakoram Range, Gilgit-Baltistan and most of northern Pakistan.
On the subject of bombings and terrorism, he says he was saddened by the recent wave of terrorism in the country that 'gave so much to his well-being'. He calls Paksitanis a bunch of resilient people.
"That same week, another six blasts went off across the country. Then I remember thinking after the fifth one, the one that killed 75 people at a Sufi shrine, was the first time I wondered if I should actually be leaving the country… then I realised no one else in Pakistan was leaving, they were just carrying on trying to enjoy their life, so why shouldn't I do the same?" he wrote.
Calling Pakistan motley of chaos and 'indescribable beauty' the Duchies is very much in awe of the Pakistani culture. He tells tales of how Pakistani people friendly and accommodating, inviting him to their abode and offering food.
"They are the pistachios to my kulfi and the sugar in my chai," well, this is how he summarises Pakistanis.
While everyone was puzzled by this mysterious admirer of Pakistan, we decided to ask him questions about his identity and what hasn't been a part of his blog.
Tell us about yourself and your travel partners?
Well, I'm known to everyone simply as Dutchie. 29 years young, going bald and have a fantastic beard. I'm passionate about motorcycles, photography and writing (although my actual skills for all three leave a lot to be desired!).
Before I left home 15 months ago, I was working as a rigger in Sydney, where I was born (think tower cranes and mobile cranes).
I never really regarded anyone as a 'travel partner' per se. Partner always sounded like a business thing to me, and I regard anyone who I spend time with to be worth more than some business deal. They are kindred spirits that I was privileged to meet on the long ride home, and there are so many people I've gone and done silly things with that I wouldn't know where to start.
What was the reason behind comparing Lahore to Willy Wonka's chocolate factory?
Well it is like Willy Wonka's chocolate factory - it's fascinating. It's like seeing a thousand lands in one city. Everything is so interesting and different! I mean, I went walking through the markets and kept asking random people on motorcycles to stop so I could touch their chaadars to help me find one I wanted. The colours of materials are bright and gaudy in the bazaars, throw that in with sweet shops, fancy shoe craftsman and all the fresh fruit... it reminds me of the times I used to go with my grandfather to the Flemington Markets in Sydney.
Special occasions like Sufi nights drew me in. Then there is the colonial architecture mixed amongst colourful mosques. It's an amazing thing to just soak in because it's so different and so new to what I've experienced before. It's like being a child and well... meeting Willy Wonka for the first time. You aren't quite sure what to make of it the first time you see it, but it definitely is fun and interesting.
Why didn't you visit Karachi? When do you plan on visiting it?
After crossing Balochistan I arrived in Quetta, and with it came a remarkably horrible flu. While I was bedridden in Quetta with cold flushes. I left Quetta, still sick, fuzzy and with only one thought - I just want to get to the Karakoram! I'd come here to see these remarkable mountains (but as you have read, discovered so much more!)
With that thought, I blazed a trail from Jacobabad to Lahore in one day (820km) skipping both Sindh and Karachi, arriving in Lahore at 11.30pm. Karachi will always be there I thought to myself.
I have intentions to visit Karachi, considering there have been many novels written around it. The timing is dependent on spare parts I am waiting for from Turkey. I am now a firm believer on not planning ahead, as plans on the road tend to change very suddenly.
Which parts of Pakistan you didn't see and when you plan on visiting them?
I'm still yet to see Sindh, Karachi, Southern Punjab, the Tribal areas and some other northern areas such as Skardu, Kalash and Swat. Yes, I have done the Karakoram highway, but it is not the complete north and so many other dreamy destinations up there await to be experienced.
As stated previously, I never factor in a plan on when to see something, more an idea that can be molded at any time, and changed on a whim if needed. I know I plan to visit them all, so I'll let time figure the rest out for me.
(Photo credit: At the handlebars)