WASHINGTON: Twitter has declined Pakistan's request to remove accounts in the second half of 2016, according to the social media website's Transparency Report.
The report states that Pakistan made four total account information requests from July-December 2016 and 13 total removal requests.
According to Twitter removal requests received are generally regarding content that may be illegal in a specific jurisdiction. Governments (including law enforcement agencies), organisations chartered to combat discrimination, and lawyers representing individuals are among the many complainants we receive requests from.
In the first half of 2016 (January-June) Pakistan made eight account removal requests from Twitter.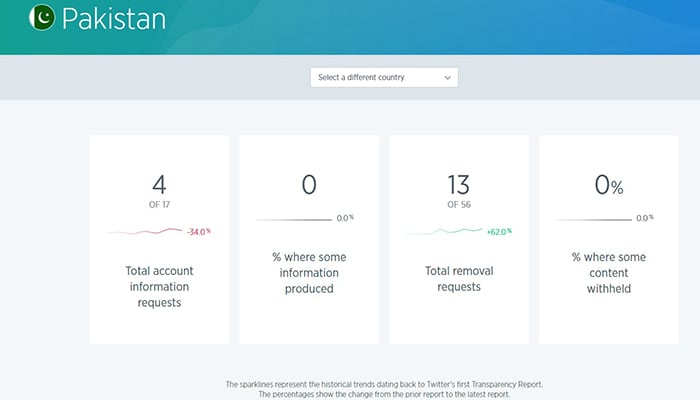 Twitter said on Tuesday it had stepped up efforts to rid its social network of posts from users advocating political or religious violence and was increasingly using software to find them rather than relying on reports from users or governments.
As part of its semiannual "transparency report," Twitter said it suspended some 377,000 accounts during the final six months of 2016 for "violations related to promotion of terrorism," a rate of about 63,000 a month. That is up from about 24,000 a month for a comparable period a year ago. For the first time, Twitter noted how many government requests the company receives to take down messages posted by journalists and news organisations.