Popular Indian singer Sonu Nigam addressed fans and haters on Wednesday in a press conference pertaining to his Twitter rant about the Azaan (call to prayers) on Monday.
Nigam took to Twitter to clarify his position, saying he was willing to apologise if any of his tweets were anti-Muslim.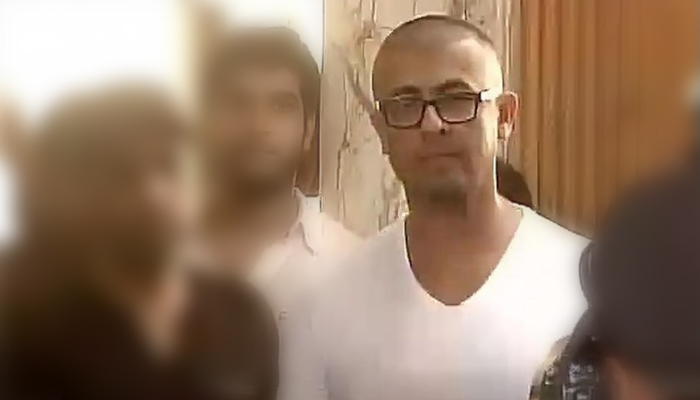 Sonu Nigam is seen sporting a shaved head after the press conference. (Image courtesy: Hindustan Times via ANI)
He then proceeded to get tonsured on live television.
Explaining further how his intentions were misunderstood, Sonu Nigam said his issue should not have been categorised as "right-wing or left-wing. I was talking on a social topic, not a religious issue. I apologise if someone thought otherwise", Hindustan Times reported.

Muslims holding a protest against playback singer Sonu Nigam over his controversial comments on Azaan in the mosques in Allahabad. (Image courtesy: Hindustan Times via PTI)
An Indian Muslim cleric on Tuesday issued a fatwa against the musician, adding a Rs. 1-million reward for "anyone [who] can shave his hair, put a garland of old torn shoes around his neck and tour him around the country."
Syed Sha Atef Ali Al Quaderi, the West Bengal United Minority Council's vice-president, commented, "If we all become so intolerant of each other's religions, we will soon have a bunch of atheists in our country. People like Nigam should be driven out of the country."
To this, Nigam had responded by saying that he would get his head shaved by a Muslim, and to "keep your 10 lakhs ready Maulavi".
However, he did go on to wonder if it was "not religious Gundagardi".
Towards the end of his talk, Sonu Nigam said, "I am a secular person. It was not about Azaan, it was about the loud sound. Playing loud sound on a speaker is gundagardi for me."
"What is happening to the country? Anyone can lynch anyone or anyone can issue a fatwa. I'm not talking about any single religion," he concluded.
The playback singer on Monday tweeted about his frustration with Azaan, and asked, "When will this forced religiousness end in India?"