DUBAI: The world's first operational "Robocop" officially joined the Dubai Police force on Sunday.

The Robocop, standing 170 centimetres tall and weighing 100 kilogrammes, is equipped with an emotion detector that can recognise gestures and hand signals from up to 1.5 metres away.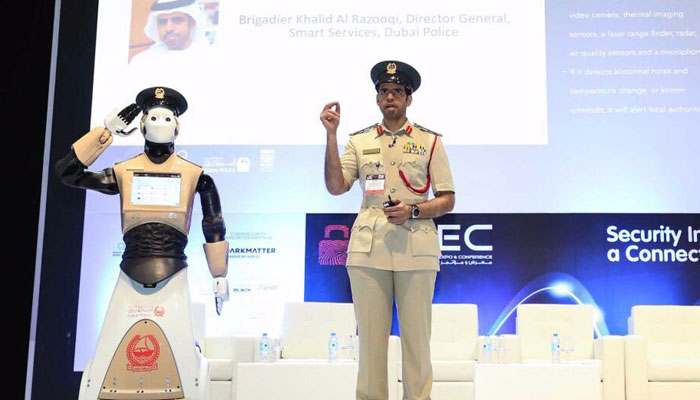 It can even detect a person's emotions and facial expressions -- whether the individual is happy, sad or smiling -- and has the ability to change its expression and greet people accordingly.
Dubai Police want 25 per cent of its force to be robots by 2030.
While talking with Geo News, Dubai Police Smart Services spokesperson Fatima revealed that Robocop can recognize the face of wanted people and would be able to send the information to police control room to take quick action.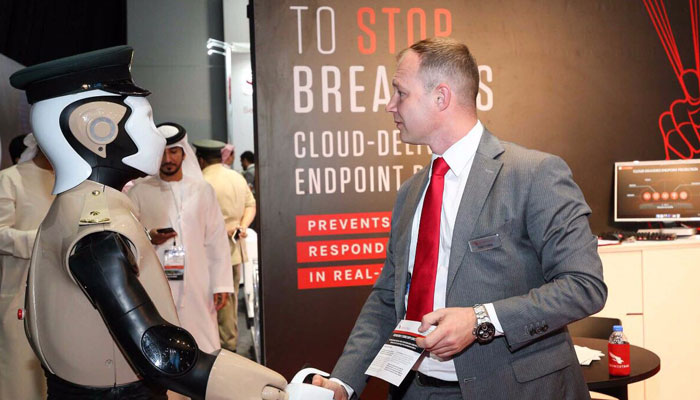 The Robocop will patrol high-density communities across the city. It has the capability to map the insides of a building and navigate its path automatically via its self-control and drive feature.
She also informed Geo News that the RoboCop has the ability to convert the pictures and videos of crime scene into 3D data that would be helpful for Dubai police to investigate accordingly.
Director-general of Smart Services at Dubai Police Brigadier-General Khalid Nasser Al Razzouqi said, "The launch of the world's first operational Robocop is a significant milestone for the emirate and a step towards realising Dubai's vision to be a global leader in smart cities technology adoption."
"With an aim to assist and help people in the malls or on the streets, the Robocop is the latest smart addition to the force and has been designed to help us fight crime, keep the city safe and improve happiness levels," he further added.
The RoboCop can also chat and interact, respond to public queries, shake hands and offer a military salute. With a built-in tablet device, it will allow residents to complete smart police services by using credit cards for payments.