KABUL: Afghan President Ashraf Ghani, in a series of messages on Twitter following a regional peace summit in Kabul on Tuesday, criticised Pakistan's alleged role in fomenting terror but also offered a path forward.

I would be remiss to my people if I did not say that our top priority must go to finding an effective way to [initiate] dialogue with Pakistan, said Ghani in one of dozens of tweets.
He shared that Kabul has offered Pakistan a vision of prosperity, linking south and central Asia together through trade, investment and peaceful coexistence. "And yet today we suffer from an undeclared war of aggression. We will not get drawn into a blame game. We have tried [all sorts of negotiations] to bring an end to conflict and terror but Pakistan continues to host terrorist sanctuaries, he said further.
"Pakistan still believes that sponsoring terror is a controllable tool that can be switched on and off as part of the means to achieve goals," he claimed.
"This cannot continue. We will not let it continue. We want peace with Pakistan. We want to be able to trust Pakistan and we want the chance for friendly, cooperative relationships that will reduce poverty and promote growth on both sides of the frontier," he warned.
Ghani also said that their "problem [and] challenge is that they cannot figure out what is it that Pakistan wants. "What will it take to convince Pakistan that a stable Afghanistan helps them?" he questioned.
Recognising Pakistan's 'legitimate' regional security interests, he said they have offered appropriate guarantees of neutrality and continue to make an unconstrained offer for a state-to-state peace dialogue.
"But we cannot, nor can any signatory to the UN Counter-Terrorism Convention, accept that terrorism or the hosting of terrorists who use military explosives and techniques to blow up our innocent young men and women, is or can ever be an acceptable tool of diplomacy," he stated.
So we again call on the Government of Pakistan to propose its agenda and a mechanism for that dialogue which can lead us to peace and prosperity, the Afghan president suggested.
Addressing the Taliban, the Afghan head of state questioned their motives and who they represent.
He listed acceptance of the Constitution, continuity of reforms for educating and advancing the rights of women and a renunciation of violence as the preconditions for negotiations with the Taliban.
"We're offering a chance for peace but we must also be clear that this is not an open-ended opportunity," he said, adding that Taliban sponsored terrorism is creating a platform for global terrorists in Afghanistan. He claimed that the Taliban's acts of violence meet UN standards of terrorism.
The Afghan president also stressed the need to build security alliances that "will let us face this common threat together."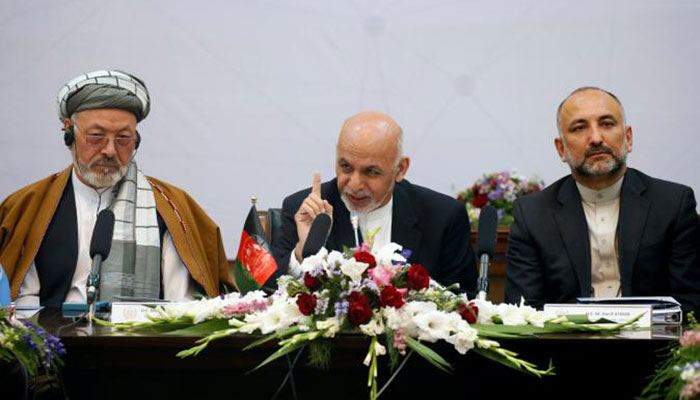 "It is time to get serious about peace, but nobody should ever assume that we will negotiate under duress or pressure," he stated.
In earlier tweets, Ghani said he told Afghanistan's international partners [at the summit] that while they appreciate the world's solidarity and support for our loss, what their people demand is justice.
"They say they're fighting a religious war, but Islam is a religion of peace," he said, adding that it is innocent Muslim/Afghan men, women and children who are being killed by the thousands. "They are terrorists, nothing more."
Referring to narcotics, terror, extortion, he said our religion has nothing but contempt for these tools of modern day terrorism. "The world community has not yet come to grips with the full dimensions of the terrorist threat. Unfortunately, the scale of the response to terrorism's rise has been slow and inadequate. While cooperation is improving, countries still lack the frameworks and the adaptability to track down and destroy movements that rapidly change their scope, their scale and even their theater of operations."
He explained that global terror has targeted Afghanistan attracted by our central location and difficult terrain. "They spill our blood only to provide a base for their criminal forays and violent activities around the region and the globe. The world must help us respond to this threat," he stressed.
The world community signed a promise that terrorism would not be tolerated, state sponsorship of terrorism would not be tolerated, reminded Ghani, adding that, "Today we are demanding that the world make good on this promise. The violence must be stopped. Terror must end."
"I unambiguously affirm our interest in bringing an end to the violence. Let there be no question at all. We most definitely want peace," he assured.
We have already said that we aim for peace, not for victory. But we cannot make peace if the Taliban are not prepared to do the same, said the Afghan president. 
Earlier on Tuesday, the president hosted the Kabul Process — a multinational peace conference hosted by Afghanistan. 
In his speech at the launch of the summit, Ghani explained that the purpose of the conference is to defeat terrorism and ensure peace. "Foreign fighters have increased in the last two years," he said, adding that this is the last chance for the Taliban to become part of the national mainstream. Ghani also assured the Taliban that he will provide them space to open up an office for conducting peace negotiations. 
Speaking to the participants of the summit, Ghani said the attacks in Afghanistan were part of the violence that had struck foreign cities around the world, most recently in London, where three militants drove a van into pedestrians on Saturday before attacking people with knives.
Afghanistan is on the front line of a global war against such violence, he said. "We're fighting 20 transnational terrorist groups on your behalf," Ghani said. "What we need is an agreement on regional security."
Ghani said if the Taliban did not soon begin negotiations, he would seek new sanctions against the group as a sponsor of terrorism.
"This is the last chance, take it or face the consequences," he said.
He informed that Afghanistan had provided its preconditions for negotiations to the Taliban, but it remains unclear whether the group's leaders represented all factions.

The peace conference was set to include discussions on talks with Taliban, as the capital reels from a wave of bombings and clashes that left more than 100 people dead and hundreds wounded in the last week.
Much of Kabul was in lockdown ahead of the conference, with tighter than usual security including more armed checkpoints and armoured vehicles patrolling the streets, and tight restrictions on civilian traffic.
However, on Tuesday, at least one rocket struck an Indian diplomatic compound a few blocks away. No immediate casualties were reported in the incident.
Representatives of around 25 countries, including Pakistan, India, China and the US, along with European Union, North Atlantic Treaty Organisation, and the United Nations, attended the meeting, which aimed to build international support on ways to restore security in the conflict-torn country.
Pakistan was represented by two senior officials of the Foreign Ministry — Additional Secretary Tasnim Aslam and director general of Afghanistan, Iran and Central Asia.

Additional input from Reuters