No room of her own: Landlords shut doors on single women
Filmmaker Shikha Makan highlights a burgeoning problem haunting single women in different metropolises in her documentary 'Bachelor Girls'
Updated Tuesday Jul 11 2017
"Imaginatively, she is of the highest importance; practically, she is completely insignificant."

This quote from Virginia Woolf's A Room of Her Own expresses the way women have been and continue to be perceived in this day and age.
While having a room of their own may give women the right to express themselves and make their presence felt, the deep-rooted patriarchal notions still suffocate them, even in their own houses.
A burgeoning problem haunting single women in different metropolises is depicted by filmmaker Shikha Makan in her documentary Bachelor Girls, which was screened at The Second Floor (T2F) in Karachi Sunday evening.

Makan exposes the difficulties career-oriented, single women face when looking for an apartment in Mumbai, India.
The documentary challenges the notion of what is "home" for these women, who, even after being given a rented space, can't "own" it due to continuous community policing, character assassination, harassment, illogical restrictions, persistent interrogation, lack of the right to personalise the space, and looming security threats.
"The main problem is that women evolved at a much faster rate than the society," Makan remarked while speaking to the audience via video call, adding that the idea for the documentary stemmed from her own experience of discrimination by a landlord.
Makan moved from Delhi to Bombay — a supposedly safe haven for the open-minded — about a decade ago. She had to endure a harsh and testing time when she was accused of 'inappropriate' activities after the landlord saw her with a male friend in her apartment complex.
Closed doors, broken spirits
"Sometimes, I want to go back [to my native town] and give up," one of the documentary participants commented despondently, tears pouring down her eyes.

Another shared that coming to Mumbai was a dream come true for her.
The city has been romanticised as a land of opportunities, supposed to give people the freedom to be themselves. "But if you can't return to your own house at [whatever time you want], it defeats the purpose, doesn't it?" she asked, rhetorically.
However, the process of finding a house is nothing less than a Herculean task. It begins with "goon-like" real estate "interrogating" women [often suggesting them to hire fake parents to get a house].
Then come the owners, who want a detailed history of the women, including their drinking and smoking habits, along with eating preferences [vegetarian or non-vegetarian].
Lastly, it is the society that holds these women accountable.
Some women shared that they would sometimes dress in traditional attire to appear "moral" and "traditional" to appease the landlords.

Moreover, strict restrictions pertaining to the entry of members of opposite sex are also placed. One participant shared how she "had to write a letter to the secretary and inform beforehand" just for inviting a female friend.

Celebrities have it worst
The ordeal of a single actress was highlighted by Margarita with a Straw star Kalki Koelchin. "People want to watch your movies, take pictures with you, but they don't want you to live in their homes," she noted.
Koelchin said she felt as if she was "diseased" at times, adding that her mother was once denied entry into a building because she is a foreigner. "Where are people like me, who are separated from their partner and have no kids, then supposed to go?"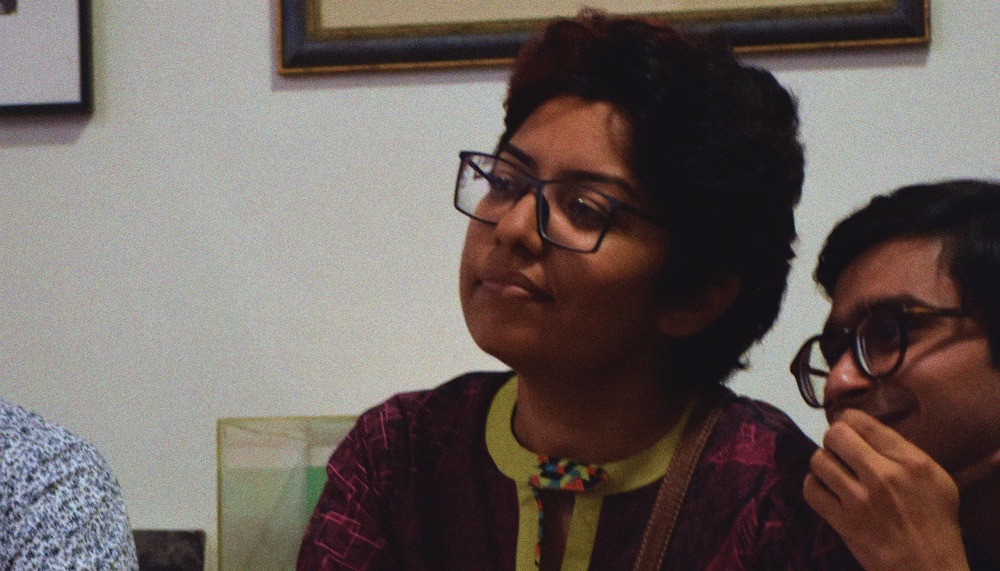 Makan explained that single female celebrities really have it worst as people are unwilling to accept their lifestyles.
'Didn't look like you'
Later, after the screening and video talk with Makan, some women from the audience shared their own experiences of living in different cities across Pakistan.
From community policing to being offered free "massage" services, the women's ordeals were multi-layered. The common theme in all the experiences was the assumption that single women pose a threat to the society's moral fibre.
"It, therefore, doesn't seem to have been a 'massage' after all," commented Sadia Khatri — the event's facilitator and one of the faces behind Girls at Dhabas — with a chuckle.

A woman shared that while she was living in a working women's hostel in Islamabad, her landlord assured to protect her "honour".

Another elucidated how she was sitting with her brother outside her hostel one day when the manager asked her if they really were siblings as "he didn't look like you".

Long way to go
In light of the anecdotes during the question-and-answer session, Khatri concluded that people in South Asia, especially India and Pakistan, still have quite a long way to go before even considering single, working women to be 'decent and respectable', let alone put aside their twisted assumptions that a woman living by herself is automatically a bad influence — often labeling her a "prostitute".
It doesn't matter to a common man whether a single woman is a "bachelor", divorced, separated or just prefers to stay unmarried.
A more convincing case, in people's minds at present, can only be made if a man — be it the father, brother or the husband — accompanies the woman, because a woman's character is only good if proved by the presence of a male.
—Photos by Haseem uz Zaman