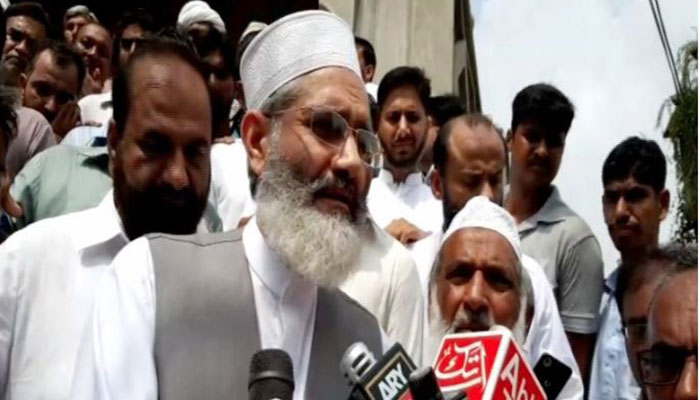 LALA MUSA: Jamaat-e-Islami (JI) Emir Sirajul Haq said on Sunday that articles 62 and 63 of the Constitution should not only apply to politicians but also on generals, judges and bureaucrats.
The JI chief made the statement while addressing the media in Lala Musa after paying a condolence visit to the family of a young boy run over during Nawaz Sharif's GT Road rally on Friday.
In its verdict in the Panama Papers case on July 28, the Supreme Court disqualified Nawaz as the prime minister for being in violation of Article 62 (1) (f) of the Constitution. The court had ruled that Nawaz had not disclosed his official association with a Dubai-based private company in his election nomination papers, and thus was deemed not 'truthful' and 'honest', as per the constitutional article.
Commenting on the tragic death of nine-year-old Ahmed Chughtai on Friday, Haq said he hopes the 'real perpetrator' is arrested by the authorities soon. "The make and number plate of the vehicle [which ran over the boy] is known," said Haq.

Chughtai, a student of grade 6, was standing on the lane-divider to watch Nawaz's convoy pass by in Lala Musa when he was reportedly pushed towards the road moments before the police vehicle passed.