As Prime Minister Shahid Khaqan Abbasi makes his maiden speech at the 72nd session of the United Nations General Assembly, here's a look at the speeches of Pakistani dignitaries to the world body in the last six years and the events that surrounded them.
Sept 21, 2016:
The address of then Prime Minister Nawaz Sharif — which prematurely turned out to be his last following his disqualification by the Supreme Court this year — to the UNGA's 71st session came in the backdrop of the killing of iconic Kashmiri freedom fighter Burhan Wani by Indian forces in occupied Kashmir in July that year.
The incident sparked a wave of protests which were eventually seen as another indigenous uprising against the brutal Indian state.
Addressing the world body, Sharif stated that Pakistan desires peace with India but it is "not possible without resolving the Kashmir issue".
"Burhan Wani, the young leader murdered by Indian forces has emerged as the symbol of the latest Kashmiri intifada, a popular and peaceful freedom movement lead by Kashmiris, young and old, men and women, armed only with an undying faith and the legitimacy of their cause and the hunger for freedom in their hearts. This indigenous uprising of the Kashmiris has been met, as usual, with brutal repression by India's occupation force of over half a million soldiers," implored Sharif.
Sept 30, 2015:
Pakistan's deteriorating ties with India and a way forward were the focus of then prime minister Nawaz Sharif's address at the UN General Assembly's 70th session.
Outlining measures to diffuse tension between the two countries, he proposed formalising the 2003 ceasefire agreement and expanding the role of the UN Military Observers Group for India and Pakistan, urged both countries to refrain from the use of force, suggested steps to demilitarise Kashmir and called for an unconditional mutual withdrawal from Siachen Glacier — the world's highest battleground.
He also highlighted the suffering of Muslims across the world, deplore the deadlock in the Afghan reconciliation process and appreciated "China's proactive role in promoting peace and prosperity in Afghanistan and our region".
Sept 27, 2014: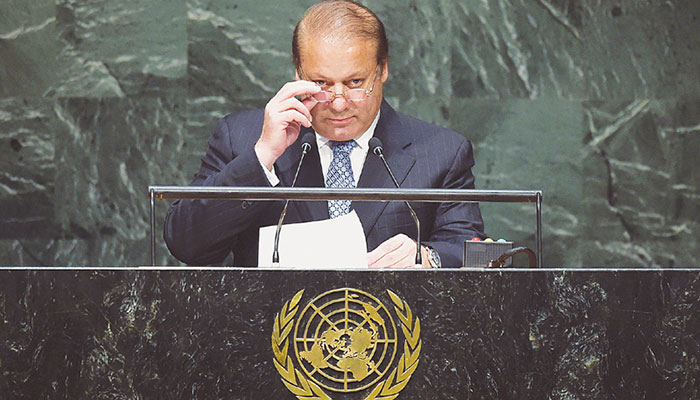 Nawaz Sharif's address at the 69th session of the UN General Assembly was preceded by India's decision to cancel the much-trumpeted foreign-secretary level talks between the two countries.
New Delhi had said the move was a result of Pakistan's decision to invite Hurriyet leaders to its High Commission for consultation prior to the talks.
It was in this regard that Sharif, despite words of caution from India regarding raising the Kashmir issue in the global arena, said, "We were disappointed at the cancellation of the foreign secretary-level talks. The world community, too, rightly saw it as another missed opportunity".
"We have a choice today: continue with the status quo or to seize the moment to resolve all outstanding issues and free up our shared energies for cooperation," he said.
Sharif also shed light on the country's relations with Afghanistan and need for action against terrorists on the other side of the border.
Sept 27, 2013: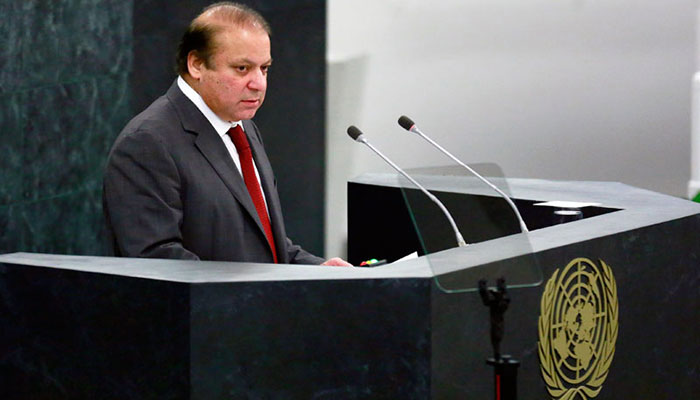 Making his first speech at the UN after becoming premier for a record third time, Nawaz Sharif set a positive tone with regards to relations with India by saying he was looking forward to meeting his Indian counterpart to "make a new beginning" in their relationship.
"Our two countries have wasted massive resources in an arms race," the premier told the UN General Assembly. "We could have used those resources for the economic well-being of our people," he said, adding that, "We still have that opportunity. Pakistan and India can prosper together; and the entire region would benefit from our cooperation".
He also urged the US to halt drones attacks in Pakistan, condemned but also called for exploring dialogue to end terrorism, urged an end to stereotyping of Muslims as extremists and terrorists, condemned the twin suicide bombing at All Saints Church in Peshawar which killed over 80 people, reaffirmed Pakistan's commitment to a stable Afghanistan, reiterated resolution of the Kashmir issue in light of UN resolutions, welcomed resumption of the Middle Peace process and supported the US-Russia agreement on Syria.
Outlining his policy after assuming office, Sharif said, "In the immediate future, our challenge is to overcome a volatile security environment, correct structural imbalances in the economy and bring an end to energy shortages".
Sept 26, 2012:
In his last address to the world body as president, Asif Ali Zardari, speaking next to a photograph of his late wife and two-time prime minister Benazir Bhutto, called on the world to stop asking Pakistan to "do more".
"To those who say we have not done enough, I say in all humility: Please do not insult the memory of our dead, and the pain of our living. Do not ask of my people what no one has ever asked of any other peoples," he said.
He also condemned the recent incidents of blasphemy against Prophet Mohammed (PBUH) as well as US drone strikes in Pakistan.
Zardari also criticised the world leaders for 'rolling out red carpets for dictators' and blamed them for suffocating democracy in the country.
Highlighting Pakistan's role in the war on terror, he said, "We have lost over 7,000 Pakistani soldiers and policemen, and over 37,000 civilians," adding, "And I need not remind my friends here today, that I bear a personal scar."
Sept 27, 2011: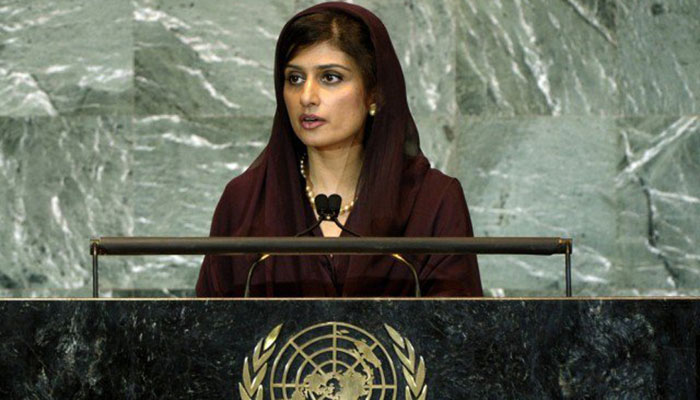 In her first and only speech at the UN General Assembly, Pakistan's then foreign minister Hina Rabbani Khar offered India to come to the table for the resolution of all disputes, including Jammu and Kashmir, through a "dialogue process".
Khar, who was appointed foreign minister just two months before, also reiterated Islamabad's desire for peace and stability in Afghanistan. The foreign minister said Pakistan wanted an Afghan-led and Afghan-owned "inclusive process of reconciliation and peace" in Afghanistan.
"We want to see Afghanistan as a united, independent and sovereign state. We urge all concerned to join the reconciliation process. We also call for a de-escalation and cessation of violence."
She also called for the US, Afghanistan and Pakistan to work together on resolving the Afghan conflict to attain durable peace in the war-torn country and urged the US to refrain from a hasty exit. 
Compiled by Bilal Abbas