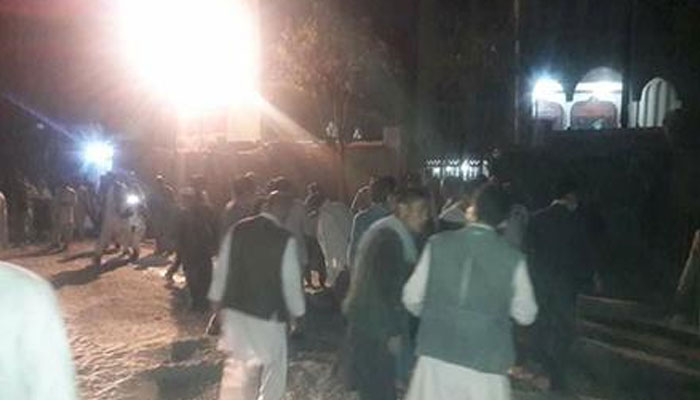 KABUL: Suicide bombers attacked two mosques in Afghanistan on Friday, killing at least 72 people including children, officials and witnesses said.
One bomber walked into a mosque in the capital Kabul as people were praying on Friday night and detonated an explosive, Mahmood Shah Husaini — one of the worshippers there — said.
"I was in the mosque bathroom when I heard a blast. I rushed inside the mosque and saw all the worshippers covered in blood," Hussain Ali told AFP.
Interior ministry spokesman Najib Danish confirmed the latest attack toll on Twitter, saying at least 39 people died in the blast at the Imam Zaman mosque in the city's western Dasht-e-Barchi district.
"Unfortunately this evening, a suicide bomber detonated himself among the worshippers inside a mosque in Dasht-e-Barchi neighbourhood of Kabul city," Kabul police spokesman Abdul Basir Mujahid told AFP.
"Some of the wounded were fleeing. I tried to stop someone to help me help the wounded but everyone was in a panic. It took ambulances and the police about an hour to reach the area," he added.
Police initially said a gunman entered the Imam Zaman mosque in the west of the city and opened fire on worshippers.
No group claimed responsibility.

However, Muslims have suffered a series of attacks in Afghanistan in recent months, many of them claimed by Daesh militants.
Separately, a suicide bomber detonated himself in a mosque in the impoverished and remote central province of Ghor, killing at least 33 people, Danish said.
A senior local police commander — who is believed to have been the target of the attack in Dolaina district — was among the dead, district governor Mohsen Danishyar told AFP.
Danishyar put the death toll as high as 30.

Again, no one immediately claimed responsibility.
Multiple attacks
The attacks cap one of the bloodiest weeks in Afghanistan in recent memory, with more than 120 people killed and hundreds more wounded in four separate Taliban attacks on police and military bases.
In three of the attacks Taliban militants used bomb-laden Humvees stolen from Afghan government forces to blast their way into targets, as militants step up direct attacks on security installations.
The last attack on a mosque in Kabul happened on September 29 as Muslims prepared to commemorate Ashura, one of the holiest days in the Islamic calendar.
Six people were killed when a suicide bomber posing as a shepherd blew himself up near Hussainia mosque as worshippers gathered for Friday prayers.
An attack on another mosque in the city on August 25 killed 28 people and wounded around 50 others.
Four attackers who set off explosions and fired gunshots laid siege to the mosque in the north of the capital for four hours as dozens of men, women and children had gathered for Friday prayers.