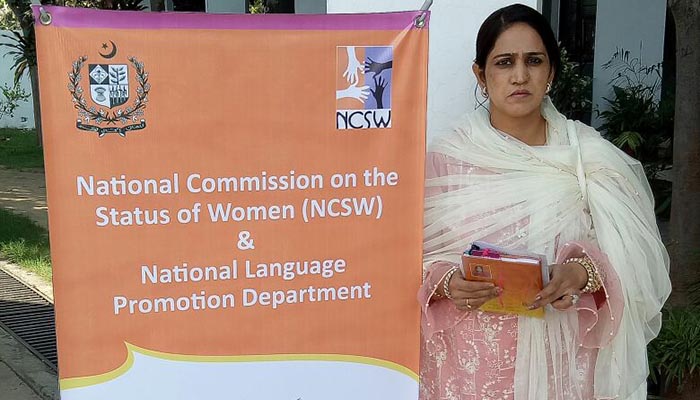 I was born in Kasur, in what I would call a simple household. We didn't have much to sustain on, but our parents still sent us to school. So I studied till 10th grade and then dropped out. I won't bore you with the details of why, but let's call them unfortunate circumstances. Even after I left, my fondness for writing poetry never dimmed.

As I grew older, I would compose short prose and verses for my friends. They love them, which encouraged me to write more. And so I did. Until I had a collection scribbled in my small notebook. I was 20-years-old when I decided I wanted to get my work published. But I didn't know how. Who do you approach? What do you say? How much does it cost? A year later, I folded up the pages and my dreams and went on with life.
By 21, I was married. Soon, I had four children and a wonderful husband. Then, life took a cruel turn when due to a financial mishap we lost most of our savings. Now, I had a choice, to beg my siblings for help or to go out and earn myself. I chose the latter. After a few searches, I was referred to a house in Lahore to work as a cook. When my family found out they were horrified. They could not accept that I was domestic help. My husband tried to dissuade as well. If I quit, he promised to make ends meet. But I wanted a good education for my children. I wanted them to enroll at a private school in Lahore, the big city.
And so I worked, long, laborious hours. My employers were very kind and helpful. I have no complaints. And yet, the reality of becoming a domestic worker, a housemaid, was painful. I tried to channel the pain into my writing. Most nights, after work, after the children were asleep I would return to my poetry. Finally, I had enough material to publish a book. When I told the lady I worked for, she helped me get through to a publisher.
In September, my collection, Aurat Teri Kahani, (Women, This is your story), was published by the National Commission on the Status of Women, in collaboration with National Language Promotion Department. After 15 years, I held the hard copy of my work in my hand. I am grateful to the organization and to the government of Pakistan for promoting literary arts through these ventures. I would have had no hope otherwise. The foreword to my book was written by the acclaimed poet Kishwar Naheed.
My children are almost grown up and my husband has a secure job at a private organization. I now, finally, have more time to myself. Maybe I'll try writing a novel next.
Nagina Asif is the author of a collection of poems titled Aurat, Teri Kahani. As narrated to Natasha Mohammad Zai