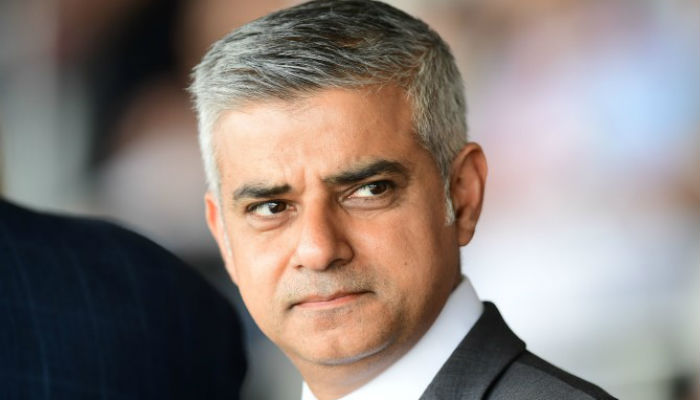 KARACHI: London Mayor Sadiq Khan, who is currently on a goodwill visit to promote his 'London is Open' campaign to Pakistan, is expected to arrive in Karachi Thursday evening.

An exhibition match will be played at British Consulate in honour of the mayor's visit. Pakistan cricket captain Sarfraz Ahmed will also play in the exhibition match. 
Moreover, Pakistan Peoples' Party Chairperson Bilawal Bhutto Zardari, flanked by other party leaders such as Sherry Rehman and Jameel Soomro, will also meet with the mayor at British Consulate. 
Khan entered Pakistan from India via the Wagah Border Crossing on Wednesday and was received on the Pakistani side of the border by Mayor Lahore Col (retd) Mubashar Javed and senior government officials.

After entering Pakistan, London Mayor shared on social media that he is the first British politician to make the journey from India to Pakistan via Wagah Border. He is also the first London Mayor to visit Pakistan in over 70 years. 
He wrote: "From the beauty of India to the vibrancy of Pakistan - today I crossed the border on foot - becoming the first British politician to make this journey in recent history."
Later on, Sadiq met with Chief Minister Punjab Shehbaz Sharif and visited the historical Badshahi Mosque. 
Pakistanis welcome in London: Sadiq Khan
Speaking at an event related to his 'London is Open' campaign at Al Hamra Arts Council on Wednesday, Khan said he welcomes the people of Pakistan to his city.
"Pakistanis are welcome to come to London to study and work. Many successful Londoners who are scientists, teachers, and business owners are Pakistanis."
He said that he hopes for good deals, friendships, and partnerships and added that London's citizens have rejected the process of hatred and divide. "Better trade terms will be formed in coming years between Pakistan and London."
"After celebrating 70 years of Pakistan this year, I look forward to the next 70 years to celebrate the friendship between London and Pakistan."
"The main reason I am here is to spread the message that London is Open for business, friendship, and trade," he said while speaking to the media in Lahore. "I love Pakistan and am aware of the challenges faced by the country."
After the event, Sadiq Khan thanked Lahore mayor for hosting a cultural event on London mayor's arrival. 
He shared: "Like London, culture is the DNA of Lahore - it's the glue that binds the city together. Many thanks to the Mayor of Lahore, Mubashir Javed, for hosting a fantastic evening of culture to mark my arrival in Pakistan."