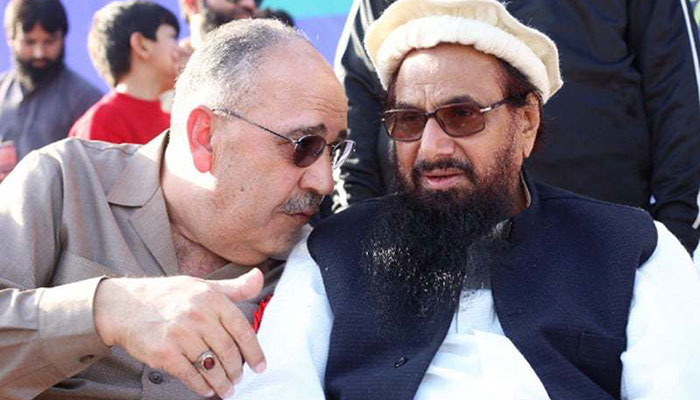 ISLAMABAD: Palestinian President Mahmoud Abbas Saturday night called back his ambassador in Pakistan for violating diplomatic norms by attending a mass rally held in the garrison city of Rawalpindi on Friday to protest the US decision of recognising Jerusalem as the capital of Israel.
Walid Abu Ali was directed to immediately return to Ramallah for his unauthorised presence in the rally.
The spokesman for the Palestinian Ministry of Foreign Affairs and Emigrants issued a statement saying, "The ministry considers the participation of our Ambassador in Pakistan [Walid Abu Ali] in a mass solidarity rally with Jerusalem held in Rawalpindi on Friday and in the presence of people accused of terrorism as an unintended mistake but not justified. Accordingly, the ministry decided directly, from the sovereignty of the President of the State of Palestine, to summon the Palestinian ambassador to Pakistan immediately."
Speculations were rife at the Diplomatic Enclave this weekend, with rumors doing the rounds that the Ambassador of Palestine to Pakistan, Walid Abu Ali, was being recalled after he was seen rubbing shoulders with the Jamaat-ud-Dawa (JuD) chief Hafiz Saeed, declared as a terrorist by the United Nations, at the rally organised by Difa-e-Pakistan Council (DPC) to protest the US decision on Jerusalem.
While the Embassy of Palestine was maintaining silence in Islamabad, and there was jubilation in Delhi over its diplomatic success, sadly, the Foreign Office spokesman was quite evasive when asked if the reports circulating from New Delhi were correct, by simply responding, "Not to the best of my knowledge".
Demands for the recall of Walid Abu Ali started in New Delhi on Friday, where the Modi government was greatly angered with such a display of solidarity by the highest Palestinian diplomat in Islamabad.
Initially, the Indian Ministry of External Affairs first summoned the Palestinian Ambassador Adnan Abu Al Haija to lodge protest.
It is rather unusual in diplomacy that one ambassador is summoned to protest about his counterpart in another country.
"We are taking up the matter strongly with the Palestinian ambassador in New Delhi and with the Palestinian authorities," MEA spokesperson Raveesh Kumar told the media.
The spokesman for the Palestinian Ministry of Foreign Affairs and Emigrants further stressed that the State of Palestine was keen to maintain good relations with the friendly Republic of India against the war and in dealing with terrorist threats.
"Our two countries (India and Palestine) are real partners in the war against terror.
"At the same time, the State of Palestine appreciates India's support for and its tireless efforts to end the Israeli occupation and the establishment of an independent state of Palestine, on the 1967 borders with Jerusalem as its capital the most recent of which was the honorable position of India in the UNGA resolution last week", the Palestinian statement added.
Originally published in The News