In the line of duty: The uniformed martyrs of 2017
Updated Sunday Dec 31 2017
Although incidents of terrorism have decreased compared to their peak around a decade ago, the year 2017 witnessed several attacks — including suicide bombings and cross-border assaults — in which security officials gave the ultimate sacrifice.

The Pakistan Army lost several of its brave officers and soldiers in terrorist attacks from Afghanistan as well as during anti-terrorist operations inside the country.
Similarly, the civilian law enforcement agencies, especially the police, also shared the brunt of terrorism, with several junior officials being shot dead in Karachi and seniors killed in suicide attacks in Balochistan and Khyber Pakhtunkhwa.
Here, Geo.tv remembers some of those who laid down their lives in the line of duty this year. May they rest in peace.

---
DEC 25

Three Pakistan Army soldiers were martyred when Indian forces opened fire along the Line of Control, a statement by the Inter-Services Public Relations (ISPR) stated.
The incident occurred in the Rakhchikri sector of the Line of Control (LoC). One other soldier was injured in the incident of unprovoked firing.
DEC 24
Three Frontier Corps (FC) personnel were martyred in an IED explosion near the Pakistan-Afghanistan border, according to ISPR.

The IED exploded while the FC Bomb Disposal team was undertaking a routine search and clear operation at Ghulam Khan near the border in North Waziristan.
According to North Waziristan Political Agent Kamran Afridi, the IED blast took place in Saidgai near a basic health unit.

DEC 22
Three FC troops were martyred in cross-border firing from terrorists on the Pak-Afghan border, the ISPR stated.
The FC personnel were busy constructing a new border post when the attack took place in the Shunkrai area of Mohmand Agency.
DEC 12
Two officials of Pakistan Army were martyred in a terrorist attack in North Waziristan Agency, according to the ISPR.
The army's media wing said that Second Lieutenant Abdul Moeed and Sepoy Basharat were martyred after terrorists fired on their vehicle from the surrounding mountains.

Sepoy Basharat, 21, hailed from Danyor village of Gilgit Baltistan while Moeed, also 21, hailed from Burewala, Vehari. Moeed had recently graduated from the PMA and belonged to the Northern Light Infantry regiment.
DEC 1
A soldier was martyred in an IED blast in Chamarkand area of Mohmand Agency, informed security officials.
The soldier was martyred on his way to the check post while carrying water for his comrades. Another soldier accompanying the deceased was injured in the incident.
NOV 24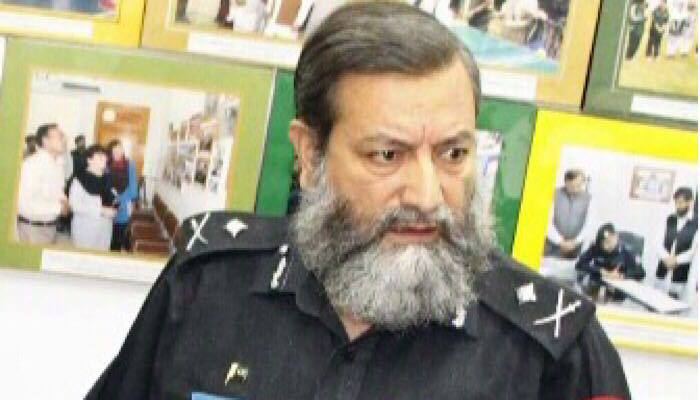 Senior police official Mohammad Ashraf Noor was martyred in a suicide attack in the Hayatabad area of Peshawar.
Noor, the additional IG Headquarters, was en route to work when a suicide bomber riding a motorcycle rammed into his vehicle near Tatara Park. Eight policemen were also injured in the attack.
Noor hailed from Gilgit Baltistan and joined the police force in 1989.
NOV 22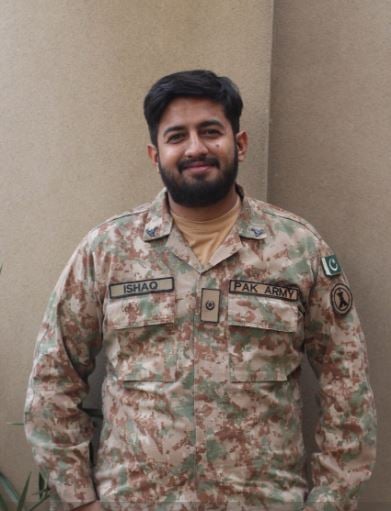 An army major embraced martyrdom in an exchange of fire during a search operation at a terrorist hideout in Kulachi, Dera Ismail Khan, ISPR Director General Major General Asif Ghafoor tweeted.
The 28-year-old martyr, Major Ishaq, belonged to Khushab, Punjab, and left behind a widow and an infant.
NOV 21
A security official was martyred in a search operation in Turbat, Balochistan, informed security officials.

The operation was being conducted by the FC on information regarding the presence of militants in the area.
Three security personnel were also injured during the operation.
NOV 15
SP Investigation Mohammad Ilyas and his three family members were martyred when unidentified gunmen opened fire on their vehicle in Quetta.
The wife, son and grandson of the officer were also martyred in the attack which took place in the Nawa Kali area of the capital of Balochistan.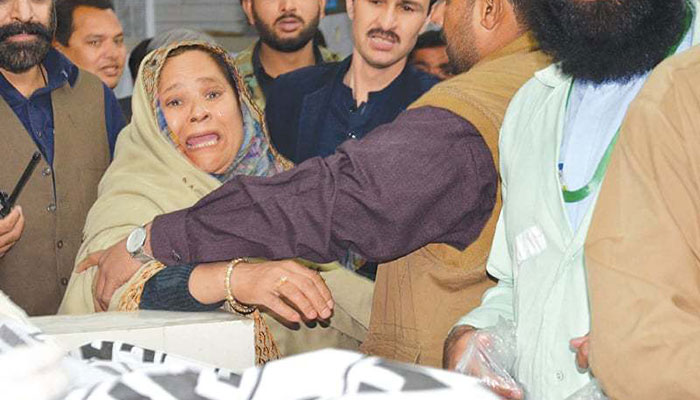 The deceased were travelling in their vehicle when they were targetted by gunmen riding motorcycles.

NOV 13
A cross-border attack by terrorists from Afghanistan in Pakistan's Bajaur Agency led to the martyrdom of two Pakistan Army officials, the ISPR said.
Captain Junaid Hafeez and Sepoy Raham were martyred in the attack on a border post. Four other troops were injured in the incident.
NOV 9

DIG Hamid Shakeel was among three officials martyred in a suicide attack on Quetta's airport road.
Around eight others, including police officials, were said to be injured in the attack.
Shakeel, who was heading the motor transport and telecommunications department, was killed when his convoy was targetted in a bomb attack.
OCT 20
A police official was martyred during an operation at a drug runner's hideout in Malir 15 area of Karachi.
According to Korangi SSP Noman Siddiqui, police raided the den of a suspected drug runner, Shahzad, and arrested him. However, an exchange of fire took place later between the police party and Shahzad's accomplices, in which police official Bilal was killed.
OCT 18
Eight police officials were martyred when attackers rammed an explosives-laden vehicle into a truck carrying Elite Force personnel in New Sariab area of Quetta early morning.

Over 20 others were wounded in the bombing, according to hospital authorities.

OCT 15

Four security officials, including a captain, were martyred and three injured in an IED blast in Kharlachi, Kurram Agency.
Three officials were killed instantly while as many were reported injured, according to the political administration of the agency.
The martyred officials were identified as Captain Husnain and sepoys Saeed Baz, Qadar Khan and Juma Gul while the injured as Naik Anwar, Sepoy Zahir and Lance Naik Sher Afzal.

OCT 13
One policeman was martyred and two others, along with a boy, were injured in a firing incident on Faqir Mohammad Road of Quetta.
According to the SSP operations, the deceased policeman was in critical condition when he was brought to the hospital and later passed away while the boy injured in the incident was a bystander.
The deceased was identified as Mohammad Ali.
OCT 3

A soldier of the Pakistan Army embraced martyrdom after terrorists fired from across the Afghan border on a border post, the ISPR said.
The incident occurred at the recently cleared area around Mustil Pass, an important passage from Afghanistan into Rajgal, in Khyber Agency.

The martyred soldier was identified as Naib Subedar Azher Ali.
SEP 30

A junior commissioned officer (JCO) and two civilians were martyred in unprovoked firing from Indian forces in Rakh Chikri area of Rawalakot, Azad Jammu and Kashmir (AJK).
The JCO was identified as Naib Subedar Nadeem.

SEPT 23

Lieutenant Arsalan Alam embraced martyrdom during firing by terrorists from across the border in Rajgal, Khyber Agency.

ISPR said that terrorists from across the border fired on the newly established Pakistani border post in Rajgal, martyring Arsalan who was commanding the post.

AUG 11

Two officials of the traffic police were martyred in the line of duty in Karachi.
Rescue officials said unidentified attackers opened fire on the official vehicle of the Liaqatabad deputy superintendent of police in Azizabad.
As a result, DSP Mohammad Hanif, 56, and his driver/gunman Sultan, 54, died on the spot.
AUG 9

A major and three soldiers of the Pakistan Army laid down their lives during a military operation in KP, according to the ISPR.
According to the army's media wing, Major Ali Salman — who belonged to a 'secret agency' — was leading a team in an anti-terrorist operation in Timergara, Dir when they were killed in a suicide bombing.

The deceased were identified as Maj Ali, Havaldar Ghulam Nazir, Havaldar Akhtar and Sepoy Abdul Karim.
JULY 24
Nine policemen were among at least 26 people martyred in a suicide attack in the Ferozepur area of Lahore, according to DIG Operations Dr Haider Ashraf.
Around 57 people were also injured in the attack, which targetted a police picket.
JULY 24

A traffic police official was martyred and another injured in a gun attack in the Abul Hasan Isphani road area of Karachi.
The officials, posted at the Gulzar-e-Hijri traffic section, were performing their duty when they were attacked.

JULY 21
Three police personnel were martyred when their vehicle was fired upon by unidentified assailants in the Korangi area of Karachi.
A 10-year-old child also lost his life in the attack.
JULY 20

A soldier, identified as Jabbar, was martyred during Operation Khyber-IV, the ISPR said.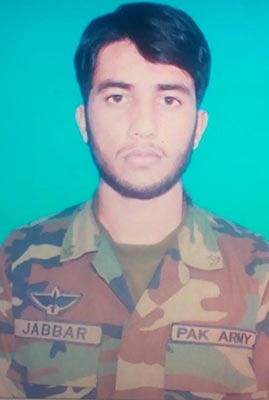 Operation Khyber-IV was launched in July in the Rajgal area of Khyber Agency to clear the area of remaining terrorists and stop their cross-border movement from Afghanistan.
JULY 16

Four Pakistan Army officials were martyred when their vehicle was targetted by Indian forces from across the LoC in the Athmaqam area of AJK.

After being fired upon, the vehicle plunged into the Neelum River, according to the ISPR, killing all onboard personnel.
JULY 13
Four policemen, including Quaidabad SP Mubarak Shah, were martyred when unidentified gunmen targetted the SP's official vehicle near Killi Deeba area of Quetta.

The three policemen guarding the SP died on the spot, while Shah succumbed to wounds later in a hospital.

JULY 12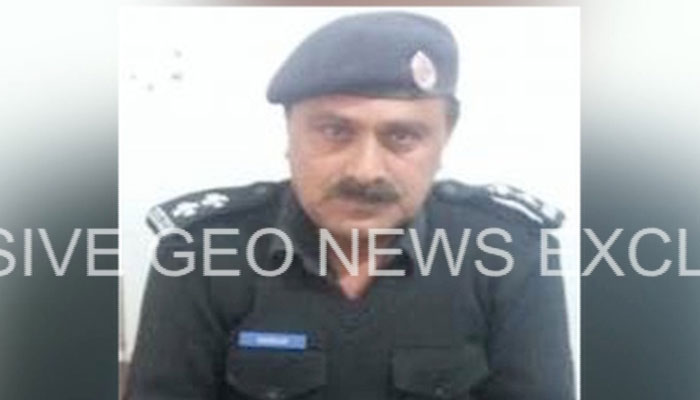 Mazari Ghot Station House Officer Sajjad Rambani was martyred along with a civilian during an exchange of fire with bandits in Rojhan Tehsil of Rajanpur, Punjab.

According to the police, the shootout also wounded four policemen and six civilians.
JULY 10
SSP Sajid Khan Mohmand was martyred in a terrorist attack after his convoy was targeted with an explosive device on Boghra Road of Quetta.
Around a dozen police personnel and civilians were also injured in the attack.

Deputy Commissioner Qaiser Khan said that a suicide bomber, riding a motorcycle, attacked the SSP's convoy.
JUNE 24
Seven policemen were among fourteen people martyred in a suicide car bombing near the office of the Balochistan inspector general of police on Gulistan Road, Quetta.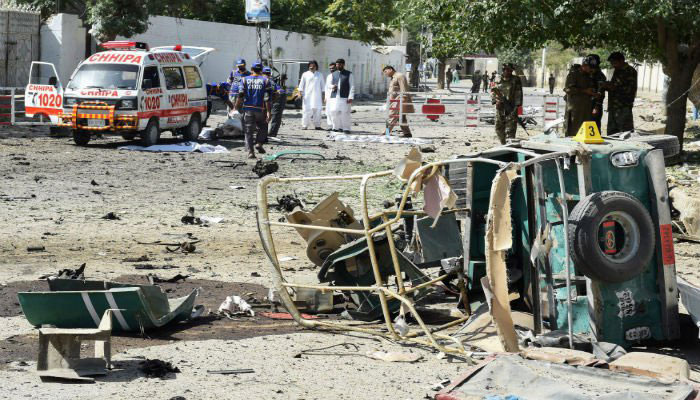 The bodies and the 21 people injured in the attack were shifted to Civil Hospital Quetta.
JUNE 23

Four police officials, including an assistant sub-inspector (ASI), were martyred in a gun attack by unidentified assailants in Karachi's SITE area.
The policemen had stopped at a local eatery for Iftar when three assailants on a motorcycle, their faces covered with helmets, opened fire and fled.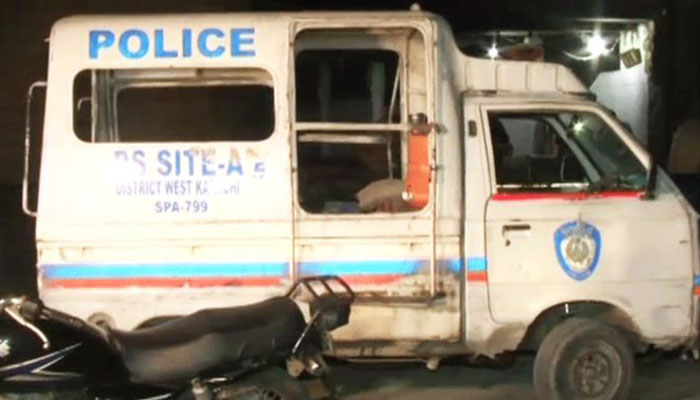 The martyred policemen were identified as ASI Mohammad Yousaf, Constables Raja Shabbir, Khalid and Asrar.
MAY 20
Two police officers were martyred and one seriously injured in a firing incident near the Dhoraji area of Karachi.
Security officials revealed that a police vehicle was shot at, resulting in the instant deaths of ASI Iftikhar and Head Constable Younus, while another official was injured.
MAY 3
A policeman was martyred when unidentified persons opened fire on him in Lakki Marwat, KP.
The deceased policeman, Momin Khan, was travelling to the mosque from Tijori Police Station when unidentified persons opened fired at him near Tijori Bazaar.
APR 23

Four FC officials were martyred and three injured when a roadside IED exploded near their vehicle in Balochistan, the ISPR stated.
The incident occurred in Gawak area in Turbat when the vehicle was on routine patrolling.

APR 5
Four military personnel were among at least six people martyred when a suicide bomber targeted a population census team in Lahore's Bedian Road early morning.
The attack had also left 15 people wounded.
MAR 17

On March 17, two FC officials were martyred in an attempted terrorist attack on an FC check-post in Khyber Agency.
MAR 17
One FC soldier embraced martyrdom while another was injured when suicide bombers stormed an FC training centre in Shabqadar, Charsadda at around 6am, the ISPR said.

The martyred soldier was identified as Lance Naik Naeemullah.
MAR 7
Two soldiers embraced martyrdom during an exchange of fire in Malikabad, Swabi.
Captain Junaid and Sepoy Amjad were taking part in an intelligence-based operation when they were killed, according to security officials.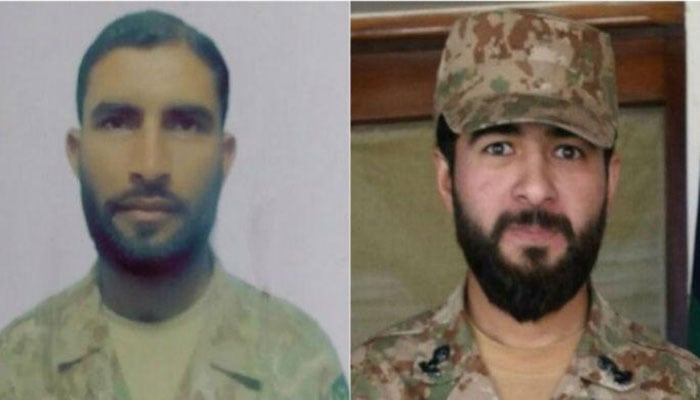 MAR 6
As many as five soldiers embraced martyrdom while foiling an attack on three border checkpoints in Mohmand Agency, according to the ISPR.
The martyred soldiers were identified as Sanaullah, Safdar, Altaf, Nek Muhammad and Anwar.
MAR 5
An inspector was martyred while a deputy superintendent of police (DSP) was injured in an encounter between counter-terrorism department (CTD) personnel and terrorists in Sahiwal, Punjab.
CTD officials said they had received a tip-off about the presence of terrorists in Harrapa village of Sahiwal. During the raid, the terrorists opened fire at the officials, killing inspector Fida Hussain and leaving the DSP injured.
MAR 2
Two Pakistan Army personnel, including an officer, were martyred in an exchange of fire with terrorists in Frontier Region Bannu.

Security forces conducted an intelligence-based operation in Mullagano area of Jani Khel when terrorists hiding in the vicinity opened fire.
Lieutenant Khawar Shahab and Naik Shehzad embraced martyrdom during the gunfight.
FEB 16

Three Pakistan Army officials, including a captain, embraced martyrdom in an IED blast near an army convoy in Balochistan's Awaran district.
FEB 15

An FC official was martyred when a suicide bomber blew himself in Mosal Kor, Mohmand Agency.
Charsadda DPO Sohail Khalid said attacker was trying to enter the office of the political agent.
Earlier in the day, another suicide attacker martyred five, including three security forces personnel.

FEB 13

Two personnel of the bomb disposal squad were martyred and 11 others injured in a blast near the Saryab Bridge in Quetta.

FEB 13
Chief Traffic Officer Syed Ahmed Mobin and Senior Superintendent of Police Zahid Gondal were among at least 14 people martyred in a suicide bombing on Lahore's Mall Road.

A suicide bomber exploded himself near the Punjab Assembly when hundreds of people had gathered for a demonstration.
The powerful explosion also left over 70 people injured.
---
Compiled by Bilal Abbas
Title image: Military personnel carry the coffin of a soldier during a funeral ceremony in Peshawar. Photo: AFP
---