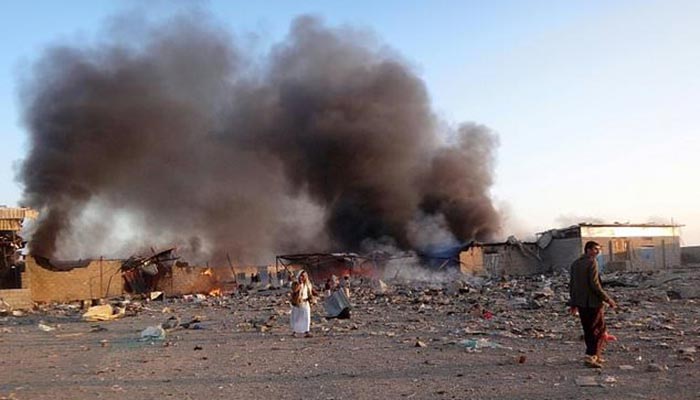 SANAA: Saudi-led coalition air strikes on a marketplace and house in rebel-held northern Yemen have left at least 14 people dead, witnesses and a rebel-run news agency said Thursday.
An eyewitness in the northern province of Saada told AFP that 12 people had been killed in strikes on the marketplace on Wednesday evening, including women.
The rebel-run news agency Saba gave the same toll and accused the coalition of using cluster bombs in that attack in Kataf city.
In the Baqim district of Saada province, two people were killed in a Saudi-led air strike on a house, another witness said.
Saba gave the same toll and said that separate strikes on a house near the Saudi border had left another two people dead although there was no independent confirmation.
Saudi Arabia leads a military coalition that intervened in Yemen in March 2015 with the stated aim of rolling back Huthi rebel gains and restoring the country's internationally recognised government to power.
More than 9,000 people have been killed in Yemen since then, according to the World Health Organization.
Saada is a stronghold of the Huthis who continue to hold large swathes of territory in the north including the capital Sanaa.
In early November, the coalition tightened a blockade on Yemeni ports and airports in response to a missile fired by Huthis that was intercepted near Riyadh airport.
The country is facing what the United Nations has described as the world's worst humanitarian crisis.