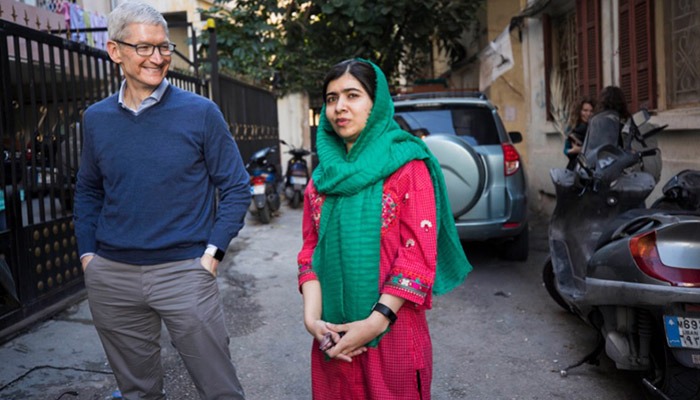 Apple and Malala Fund have announced to work together to promote girls education and expand the fund's projects to India and Latin America, a press release by the tech company said on Sunday.
"With Apple's support, Malala Fund expects to double the number of grants awarded by its Gulmakai Network and extend funding programs to India and Latin America with the initial goal of extending secondary education opportunities to more than 100,000 girls," the press release said.
The tech giant plans to help the fund in areas including technology, curriculum and research. Apple CEO Tim Cook will also join the Malala Fund leadership council.
Appreciating Apple's decision to partner with her, Nobel Laureate Malala Yousafzai said she is grateful that Apple knows the value of investing in girls and is joining Malala Fund in the fight to ensure all girls can learn and lead without fear.
"My dream is for every girl to choose her own future," said Malala Yousafzai. "Through both their innovations and philanthropy, Apple has helped educate and empower people around the world."
Tim Cook called Malala "one of the most inspiring figures of our time" and said the company is honoured to extend her goal of empowering women all over the world.
"We believe that education is a great equalising force, and we share Malala Fund's commitment to give every girl an opportunity to go to school," said Tim Cook. "Malala is a courageous advocate for equality."
The Malala Fund was set up in 2013 and supports the right to education for girls in Pakistan and across the world.
The fund got it first grant in April of the same year, raised with the support of Vital Voices, Angelina Jolie and the Women in the World Foundation.
Last week, The Big Heart Foundation (TBHF), in cooperation with the Malala Fund, donated US$700,000 to build a girls' school in Pakistan.
The Sharjah-based global charity is funding the school project through its 'Girl Child Fund' in collaboration with the Malala Fund, local media reported. The school is being constructed in Swat Valley, Malala's home district, and will open its doors to 350 girls in its 11 classrooms once completed.
The school is currently in the second phase of its construction, with the project due to complete in April 2018.