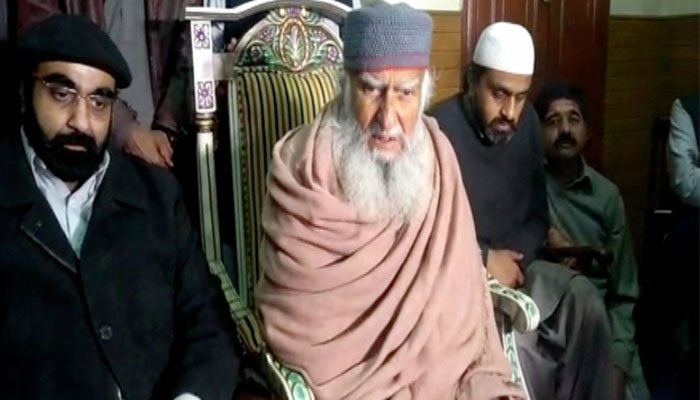 LAHORE: Spiritual leader and the custodian of Sial Sharif Shrine of Sargodha Pir Khawaja Hameeduddin Sialvi on Monday accepted Punjab Law Minister Rana Sanaullah's explanation.
The spiritual leader had been heading a campaign, demanding the resignation and apology from Sanaullah regarding his remarks during a TV show.
Sialvi said that he is satisfied over the explanation by the Punjab law minister over the matter of Ahmedis.
He said that MPA Nizam Sialvi with his permission went to Lahore, where the law minister gave the justification to him, clearing reservations of the spiritual leader.
Meanwhile, Pir Sialvi further said that the misunderstanding between Sahibzada Nizam Sialvi and Sahibzada Qasim Sialvi has been cleared, adding that there is no contention between the sons.
On Jan 25, Pir Khawaja Hameeduddin Sialvi took back his call of protest after meeting Punjab Chief Minister Shehbaz Sharif.
As many as three provincial lawmakers of the ruling party, Maulana Rehmatullah, Ghulam Nizamuddin Sialvi and Muhammad Khan Baloch had submitted their resignations, on the direction of Pir Sialvi.
The four members, although withdrew their resignation on Jan 29, days after the meeting between Shehbaz Sharif and Sialvi.
Earlier, Punjab Minister for Auqaf and Religious Affairs Zaeem Qadri had also called on Pir Sialvi. Pir Sialvi had asked Qadri to ask Rana Sanaullah to publicly explain his position with regard to Ahmedis, recite Kalma and step down as Punjab law minister.
Later during various televised interviews following Qadri's meeting with Pir Sialvi, Sanaullah said that the people around Pir Sialvi had created misunderstandings and he would soon address their reservations.