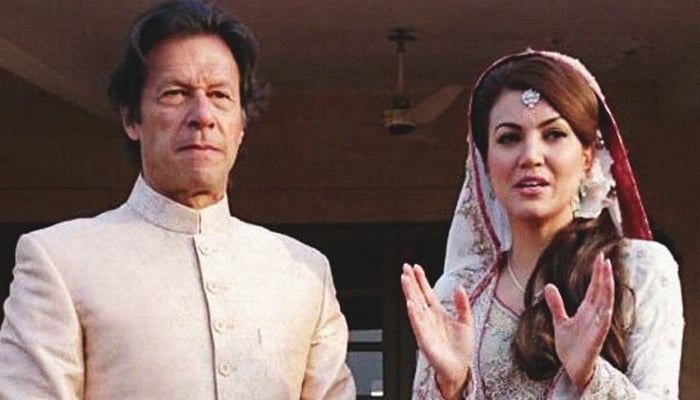 LONDON: Broadcast journalist Reham Khan, Imran Khan's former wife, said Thursday her ex-husband announced the intra-party elections' date on political advice provided by Bushra Wattoo — now his third wife.
In an interview here with the Mail Online, she reiterated her allegations that her former husband was in contact with his current wife while still married to her and that the new bride made key political decisions for Khan to follow.
Reham slammed her ex-spouse, saying the wedding photos appear as if Imran Khan has become distant from the 'Naya Pakistan' he aspires to create.
She said the wedding was a public relations (PR) stunt and the "cringe-worthy photos" were issued to the media to dupe the public into thinking that the couple were pious people.
"To have a woman veiled head to toe, he has alienated a lot of people," she added.
Reham claimed that Imran takes instructions from the 'soothsayer' wife, which is why many are now questioning their trust in him.
"One of the biggest things is this woman making decisions. Even if she wasn't a spiritual guide, she is getting to choose dates of intra-party elections".
She recalled that her relationship with Imran was a perfect one as they had no arguments or disagreements until the time she received a text message from him stating their marriage was over.
October 31, 2016 — the divorce date — was their first wedding anniversary, she added.
She further claimed, "Imran was in contact with Bushra three years ago when I was his wife; he is not the truthful man.
"I knew they got married on January 1, [but] he revealed it later; this is exactly what he did after marrying me and then announcing after two months."
Reham said the leader of the Pakistan Tehreek-e-Insaf (PTI) was relying heavily on his new wife to help him make important decisions in the run-up to Pakistan's July elections when he hopes to become Prime Minister.
"He doesn't do anything without her instructions," said the BBC presenter. "She is his spiritual guide. She tells him what to do and when to do it."
She said that refusing to show the third wife's face in the wedding pictures did not go down well in Pakistan.
"It is all about numbers. She is a soothsayer and this has brought a lot of criticism against him in Pakistan. These type of practices are frowned upon. We don't see it as very acceptable to rely on numbers in Pakistan," Reham Khan said.

"She chose the date for intra-party elections. She says what he should be doing next. If she says stay in the mountains, he does that and he comes down when she says."
"His marriage and her making of decisions have upset his party across the board.
"A lot of the time it was reported that I was going to meetings and meddling in any party affairs. But I never did any of that. I was never consulted about anything.
"One of the biggest things is this woman making decisions. Even if she wasn't a spiritual guide. She is getting to choose dates of intra-party elections.
"He has said he does not make any decisions without her instructions.
"She decided about a candidate and the timing of an intra-party election and then the timing of the marriage in the week following this defeat. We have less than four months before the elections. This is seen as wrong timing for any kind of marriage."
According to Mail Online, Khawar Fareed Maneka — Wattoo's ex-husband — said they were happily married for 30 years before "problems started erupting when Khan began visiting the house".