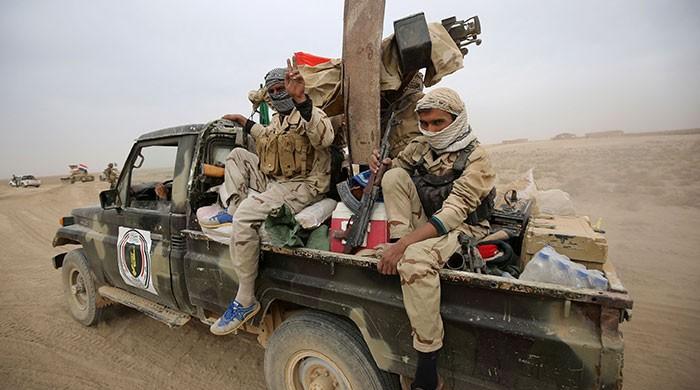 KIRKUK: At least 25 civilians and members of government forces have been killed in northern Iraq since late Sunday in attacks by Daesh, officials said.

The attacks came despite Baghdad´s declaration of victory over the militant group late last year.
"Islamic State (IS) terrorists who had set up a fake roadblock on a major road have killed 15 people," a police officer told AFP.
That attack took place on the outskirts of Amerli in the province of Kirkuk, about 200 kilometres from Baghdad.
In a separate attack, three people were killed while driving a car further north near the city of Daquq, said the officer, who spoke on condition of anonymity.
"The attackers then burned the car," he said.
In a village of Niniveh province, seven others including the mayor were killed by armed men in military uniform, local official Ali al-Hamdi told AFP.
Hamdi blamed Daesh, saying members of the militant group were hiding out in the surrounding desert and making incursions into populated areas.
The mayor of Mushirfa village and two of his children were killed in the attack on his home, Hamdi said, as well as two tribal fighters of the Hashed al-Shaabi paramilitary units that played a leading role in the fight against Daesh.
In mid-February, Daesh claimed responsibility for killing 27 people in the Hawija area of Kirkuk province, also setting up a fake checkpoint and disguising themselves as soldiers.
It was the deadliest attack on Iraqi forces since they retook control last October of Hawija, the militants´ last bastion in northern Iraq.
In December, Baghdad announced the "end of the war" against the Daesh and that government troops - army, police and Hashed al-Shaabi - were in control of the long and porous Iraqi-Syrian border.
Experts and officials, however, believe that militants hiding out in the desert still have the ability to strike and even to seize areas of Iraq, especially near the Syrian border.