KARACHI: Police on Thursday arrested a US-educated man involved in selling Methamphetamine, popularly known as crystal meth or sheesha in Karachi.

SSP South Sarfaraz Nawaz informed that the suspect named Adeel alias Vicky completed his Masters from the University of Carolina and belongs to a decent family living in the United States.
The SSP added that the police recovered crystal meth and related equipment from the suspect's possession.
The senior police official further said that the arrested suspect used to operate through Facebook for dealing in drugs and the suspect started peddling drugs in Pakistan after he went to jail in relation to a murder case.

Nawaz said that the Adeel got addicted to drugs in jail.

SSP South informed that hundreds of people used to buy crystal meth from the suspect, adding that 50 percent of his clients were girls.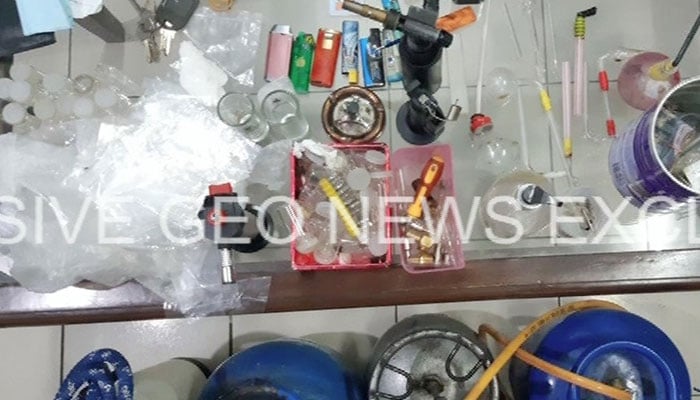 It recently emerged that the educated class of the metropolis has been a target of the ice dealers. The apartments in the upscale areas have been found to be used as dens for drug usage.
It was learnt that people would be given free drugs at first in parties to make them addicted to it. In case a person cannot afford to buy them they are turned into suppliers.
Investigation officials have claimed that 50 to 60 dealers have been identified in the business.
Unfortunately, the drugs have made their way into educational institutions and offices too.
Earlier in February, three people, including a woman, were held for delivering drugs to various houses and educational institutes, mostly in the posh areas of the metropolis.
The gang used cars registered with private taxi service to deliver the drugs to clients, police sources had said.
SSP South Javed Akbar Riaz had told Geo News that the group had been working in the areas for the past on year and that police had information on the peddlers.
Commenting on the modus operandi of the group, the SSP said that the suspect Sonia would approach young people through social media platforms like Facebook and WhatsApp, befriend them, and lure them by giving free drugs," the SSP said.