ISLAMABAD: The first mock flight of Pakistan International Airlines (PIA)  landed at the New Islamabad International Airport on Saturday.
PK-9001 departed from Benazir International Airport at 1:00pm and  landed at the new Islamabad airport around 1:30pm. The flight was scheduled to take off at 12:30pm but was delayed as the boarding process of some PIA pilots and their families who were on board the flight took longer than expected. 
PIA Chief Executive Officer Musharraf Rasool observed the mock exercise.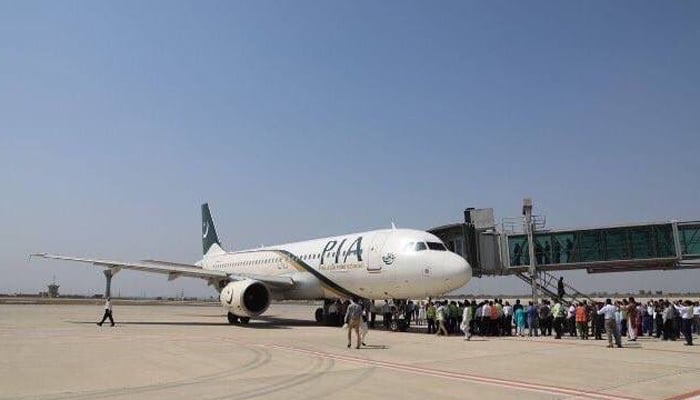 The new Islamabad airport will be inaugurated formally on April 20 for regular international and domestic flights. Authorities said the old Benazir Bhutto International Airport would be transferred to the new airport between April 19 and April 20.

According to details available with Geo News, the airport which is designed as "Y" shape, spreads over 19 square kilometres with 15 passenger boarding bridges, it includes facilities to accommodate two double-deck A380, as many as 15 remote bays and seven remote bays for small aircraft.
The new airport will become the country's biggest international airport for its frequency of landing and the number of passenger handling services. It is located 30 kms away from the central Islamabad, while construction work on the project was started in April 2007.
PIA changes logo to include Markhor on aircraft exterior
PIA has issued its new logo to include a painting of the Markhor on the exterior of the aircraft.
Markhor, a wild goat, which lives in the mountainous regions of the country is Pakistan's national animal. In the new corporate look of the plane, there will the painting of Markhor displayed on the tail of the plane.
While the door attached to the cockpit will contain Pakistan flag display, then there will be written PIA in English and after that PIA will be written in Urdu.