Do you know why the Markhor is Pakistan's national animal?
Markhor is a wild goat. It is the only goat, among its relatives, that has adapted to the rugged and steep mountains of northern Pakistan
Updated Sunday May 27 2018
These days, there is much talk about the wild Markhor after the state-run Pakistan International Airlines (PIA) decided to refashion its livery with a portrait of the goat. The announcement sent the social media in a tizzy. There were strong opinions on whether Pakistan's national animal should or should not grace the tail of the aircraft. But the debate was quickly settled, at least for now, when, in May, the Supreme Court of Pakistan put an immediate halt on the facelift until a report in the regard was presented.

Yet, questions linger. What is the Markhor? Why is it our national animal? Geo.tv asked the World Wildlife Fund (WWF) Pakistan to answer our queries:
WWF-Pakistan: Markhor is a wild goat. It is the only goat, among its relatives, that has adapted to the rugged and steep mountains of northern Pakistan, some of which can reach the height of 4,000–12,000 feet.

The name "Markhor" is a combination of two Persian and Pashto words: "Mar" means snake and "khor" means eater. Due to its long, curled up, snake-like horns people believe that this wild ungulate is a snake eater or killer.
In most countries, national symbols are selected keeping in mind their maximum representation. Which could be why Markhor was honoured as our national animal. Its habitat covers Balochistan, Gilgit-Baltistan, Khyber-Pakhtunkhwa, and Azad Kashmir.
There are several sub-species of Markhor in the country, categorized based on their horn's shape and twisting pattern. One is the Afghan or Badakhshan Markhor, then there is the Suleiman or Balochistan Markhor. These species are further categorized into the Astor Markhor and Kashmir or Pir-Panjal Markhor, which have flare horns.
The widest spread species is the Kashmir Markhor. It has a significant population. An adult male of this species weighs 80 – 110 kg heavier as compared to other breeds of Markhor, and stands 39 – 41 inches tall.
As for the appearance, the males have a black beard while females have small chin tufts. In winters their coat hair grows long, while in the summer it sheds wool and the long hair by rubbing its body against rocks.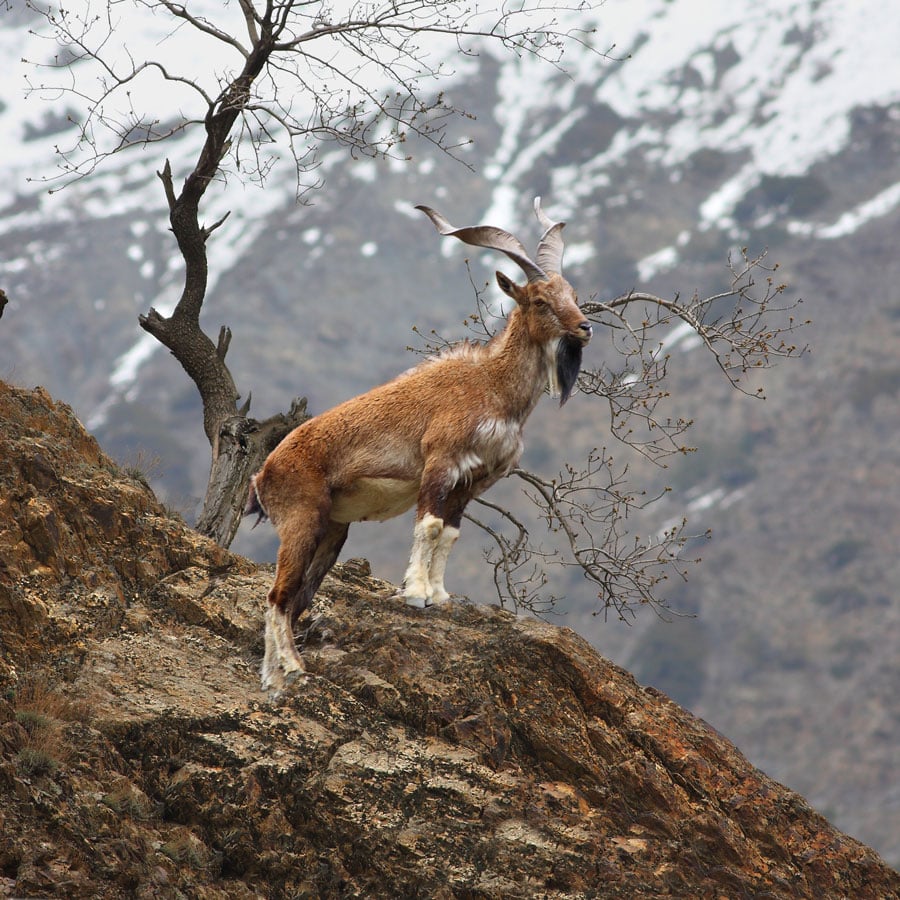 A male Markhor can live up to nine years. But as it ages and its body begins to shrink, it can become an easy target for natural predators including grey wolves and snow leopards. They then are also prone to natural disasters, such as avalanches, floods, land sliding and rolling stones.
One can easily determine the age of a Markhor by counting the rings on its horns.
Female Markhors usually give birth around the last week of May to mid-June. Each pregnancy produces one or two offspring. Although the offspring can soon walk without assistance, yet the mothers prefer to hide them in caves or in hollow logs to protect them from predators.
The Kashmir Markhor largely inhabits the dry temperate oak and coniferous forest of the Hindu Kush and Himalaya, Chitral, Nuristan of Afghanistan, Kohistan, Gilgit-Baltistan, Swat, and the Azad Jammu and Kashmir.
Until 2015, the conservation status of the species was listed as "endangered" by the IUCN's red list. But it has since moved down the list to "near threatened," which means that their population is growing again.
---
Produced with information and support from WWF-Pakistan. All photos courtesy WWF-Pakistan