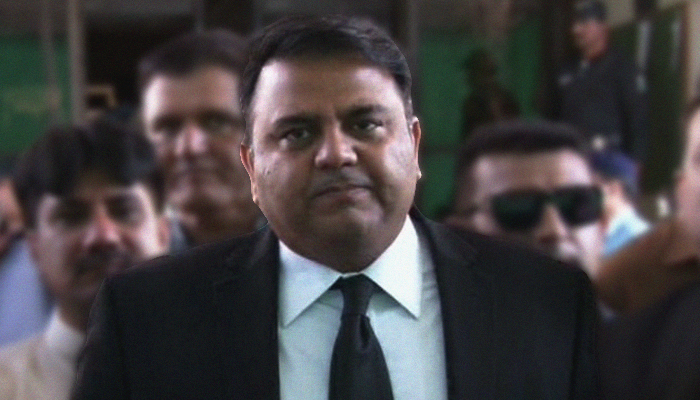 KARACHI/ISLAMABAD: The Pakistan Muslim League-Nawaz (PML-N) supremo "may become [Muttahida Qaumi Movement (MQM) founder] Part 2 but not Nelson Mandela Part 2", a spokesperson for the Pakistan Tehreek-e-Insaf (PTI) said in a reactionary comment after Nawaz Sharif's statement.
Spokesperson Fawad Chaudhry, while referring to Shehbaz Sharif, the former chief minister of Punjab, noted: "When even Nawaz Sharif's own brother is not in agreement with him, how does he expect the voter to be?
"Nawaz Sharif's statement won't sell," Chaudhry claimed.
Earlier today, at a news conference in London, former prime minister Nawaz Sharif had said he was leaving behind his ailing wife, Begum Kulsoom Nawaz, in "Allah's protection", and returning to the country.
The PML-N supremo said he had wished to see his wife opening her eyes again and requested the nation to pray for her recovery. He was returning "despite seeing a prison cell in front of me […] I am returning to fulfil the promise of giving respect to the vote", he had added.
Underscoring that he would not abandon his nation, he had stated that he would not stop now regardless of whether he was taken to prison or gallows.
Of the Avenfield reference verdict, Sharif had said: "Is there any Pakistani whose three generations had to face such sort of accountability?"
The Pakistani people once again saw the "real face" of justice, he had said, adding: "Having searched in several countries of the world, it had to be written that there was no evidence of corruption [against me]."
He had maintained that he respected every institution of Pakistan, noting that he made the country a nuclear-capable state.
The former premier had said he had set out bearing the flag of "give respect to vote. I'm coming to pay off the debt of the nation that thrice elected me the prime minister".
Sharif had said all this had to change if they had to stay alive and progress. "Not only does all of this need to be changed but it should be changed soon for we do not have much time."
He had said that they were getting the chance for a change after two weeks, adding that the forthcoming election would decide their fate.
"Every Pakistani will have to hold his vote in hand and think," Sharif had said.
"The dictator who imprisoned judges is roaming free and no one has the courage to bring him and put on a trial," Nawaz had criticised, adding that the disrespect of vote had made a mockery of the country.

"Herding the masses like a pack of cattle is unacceptable."