Imran Khan: From World Cup hero to Prime Minister of Pakistan
Updated Friday Aug 17 2018
The image of Imran Khan, donned in the iconic light green jersey, lifting the crystal globe trophy, after leading Pakistan to Cricket World Cup glory in 1992, has become imprinted in the minds of many Pakistanis.
Twenty-six years later, the now 65-year-old national hero has emerged victorious in his rigorous political journey to become the country's 22nd prime minister, after his centre-right party, Pakistan Tehreek-e-Insaaf (PTI), won the General Election 2018 on July 25.
Early life
Born in 1952, the only son of affluent civil engineer Ikramullah Khan Niazi and his wife Shaukat Khanum, Imran grew up in Lahore, Punjab.
The brother of four sisters received his early education at Aitchison College after which he enrolled into the Royal Grammar School Worcester, England.
He then graduated from Oxford University in 1975 with a degree in philosophy, politics and economics.
Cricket glory
Imran, who started playing cricket when he was a teenager, made his cricketing debut for Pakistan at the age of 18 during the 1971 series against England at Edgbaston, Birmingham.
After graduating from Oxford, Imran made his home debut for Pakistan in 1976, and played until 1992, bringing home many laurels as a sportsman.
He was also the team captain intermittently from 1982 to 1992.
His greatest achievement in cricket was leading his 'Cornered Tigers' to victory in the 1992 World Cup in Australia.
Imran retired from cricket in 1992 as one of Pakistan's most successful players. In his last 10 years of international cricket, he played 51 Tests, averaging a stunning 50 with the bat and 19 with the ball. He played a total of 88 Tests for Pakistan, scoring 3,807 runs at an average of 37.69 and bagging 362 wickets. He also featured in 175 ODIs, scoring at an average of 33.41 and claiming 182 wickets.
It was little surprise, then, when he was inducted into the ICC Cricket Hall of Fame in 2010, becoming only the fourth Pakistani at that time to receive the honour.
Political journey 
In 1996, Imran decided to put his national fame to political use and founded Pakistan Tehreek-e-Insaaf (PTI), promising to fight graft and deliver justice to the people of the country.
For his first decade and a half as a politician, he sputtered, with the PTI never securing more than a few seats in the National Assembly.
"Sports teaches you that life is not in a straight line," he was quoted as saying earlier this year. "You take the knocks. You learn from your mistakes." 
He won his first seat in the National Assembly in 2002 while contesting from his parents' native town of Mianwali, Punjab.
In 2011, PTI's popularity surged with hordes of young people who grew up idolising Imran as a cricket icon reaching voting age.
The party garnered a significant following in the 2013 general elections with its slogans of 'Naya Pakistan' [new Pakistan]. Imran's campaigning led the party to claim majority seats in Khyber Pakhtunkhwa, which his party governed for five years.
The Panama Papers leak in 2015 provided Khan a big opportunity in his anti-corruption campaign against his political rival Nawaz Sharif. His untiring pursuit of the case against Sharif and his family eventually led to the PML-N supremo's disqualification as the country's premier.
On July 25, PTI won majority seats in the parliament, propelling its chairman to prime ministership of Pakistan. 
Personal life 
In the West, the man who led Pakistan's 1992 World Cup champion cricket team is typically seen through the prism of his celebrity status and memories of his high-profile romances.
In 1995, Imran married 21-year-old British citizen Jemima Goldsmith. The marriage ended in 2004, but the couple continue to maintain an amicable relationship. They have two sons, Sulaiman Isa and Kasim.
In January 2015, his personal life made headlines again with his marriage to British-Pakistani journalist, Reham Khan, in a private ceremony at his residence in Islamabad. The marriage lasted less than a year.
The short-lived communion triggered an ugly public discussion after Reham Khan released a controversial memoir earlier this year, in which she claims to have been bullied by PTI supporters. 
The PTI confirmed Imran Khan's third marriage to Bushra Riaz Wattoo, known to be his spiritual guide, in a low-profile ceremony in Lahore on February 18.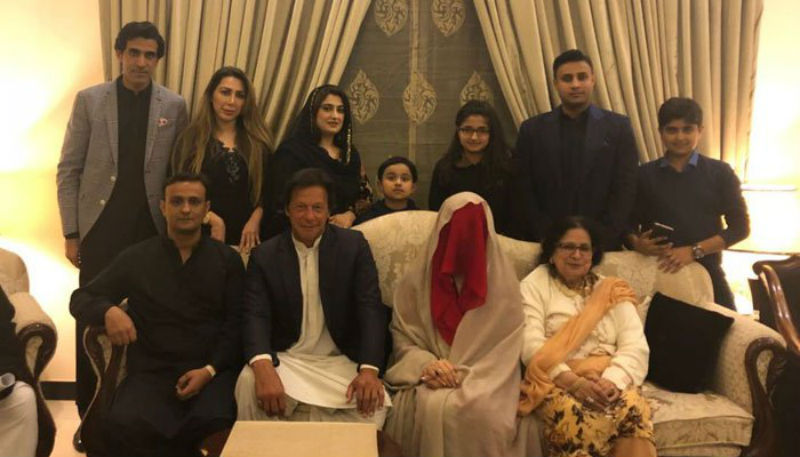 As Imran assumes the office of the Prime Minister of Pakistan, his critics fear his mercurial nature may be unsuited to the post, while his supporters believe this is the best opportunity the country will ever have to finally witness a 'Naya Pakistan', freed from the shackles of the status quo.