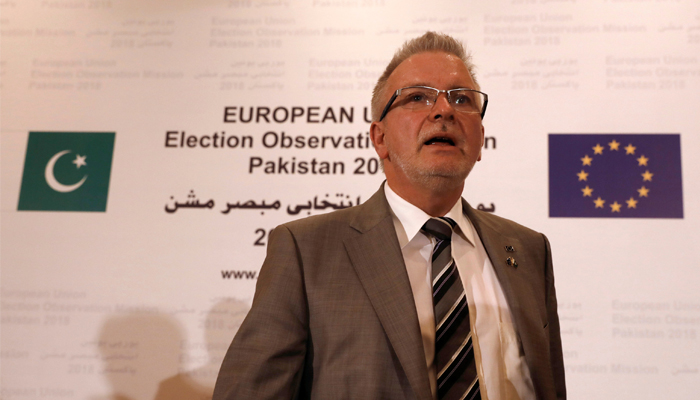 ISLAMABAD: A European Union (EU) monitoring team said Friday the campaign for Pakistan's general election this week featured a "lack of equality" that meant it was not a level playing field for all parties.

The Pakistani's election was "not as good" as the country's previous vote, in 2013, according to observers who presented a preliminary assessment in Islamabad Friday.
"Although there were several legal provisions aimed at ensuring a level playing field, we have concluded that there was a lack of equality and (of) opportunity," Michael Gahler, the chief observer of the EU Election Observation Mission (EUEOM), told a news conference in its preliminary assessment of the poll.
Gahler noted a "systematic effort to undermine the former ruling party" throughout the campaign, though he avoided naming any culprits.

"Our assessment of the election concludes that the electoral process 2018 is not as good as that of 2013," Gahler told reporters in Islamabad, referring to the previous election, which was Pakistan's first ever democratic transfer of civilian power.
"It is our assessment that despite positive changes to the legal framework ... and a stronger and more transparent Election Commission, the electoral process of 2018 was negatively affected by the political environment," he said.
"A number of violent attacks targeting political parties, party leaders, candidates and election officials, severely affected the campaign environment," he added.
"Many of our interlocutors acknowledged a systematic effort to undermine the former ruling party through cases of corruption, contempt of court and terrorist charges against its leaders and candidates," he continued.
Despite legal provisions, he said: "We have concluded that there was a lack of equality of opportunity".
"On election day, polling was assessed as well conducted and transparent," Gahler said. "However, counting was somewhat problematic with staff not always following the procedures."

"The credibility or the legitimacy of this process, that is for the people of Pakistan," he added later.
Jean Lambert, the head of the European Parliament election observation delegation, urged civilian oversight at polling stations.

"We were struck by the significant security presence at polling stations. We do understand the need for security, however elections are an act of civil society and we look forward to a move of greater civilian rather than military oversight, particularly inside the stations where people are casting their ballot," Lambert said.
Separately, the Commonwealth Observer Group also presented its interim findings.
"Some stakeholders questioned the impartiality of the military and judiciary and cited the timing of court cases against certain political leaders and candidates as an example," the group's chairman, General Abdulsalami A. Abubakar, told media.
However the "scale of procedural irregularities during the voting process was relatively low", a Pakistani election observer group, the Free And Fair Election Network (FAFEN), said in its preliminary assessment Friday.
The group, which said it observed 37,001 of the more than 85,000 polling stations across the country, noted there were irregularities that need to be addressed, but that it expected election officials to "allay the concerns of major political parties over the integrity of results".
Pakistan cricket legend-turned-politician Imran Khan has declared victory with a large lead in the nearly complete vote count, though he will need to seek a coalition to form a government.
The party of jailed ex-prime minister Nawaz Sharif has made accusations of rigging during the counting process after Wednesday's vote.