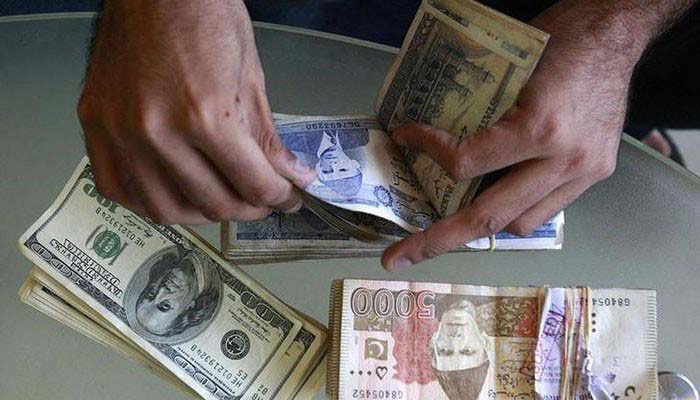 KARACHI: In a first in four years, the US dollar shed Rs5.36 against the rupee on Monday in the inter-bank market, falling to Rs122.5.

The greenback closed down Rs2.82 at Rs125.4.
In the open market, the foreign currency fell by Rs2, to trade at Rs118 (buying) and between Rs120-122 (selling). 
As the market opened, the Pakistan Stock Exchange (PSX) also witnessed a positive trend. The benchmark KSE-100 index gained 314 points to reach 43,100 points. 

It closed up 770 points at 43,556 points.
The positive economic indicators are considered to be largely driven by what investors consider the return of political stability following the July 25 polls.  
The national debt will decline by Rs450 billion as the rupee consolidates gains against the greenback. 

In a comment to Geo.tv, market analyst Samiullah Tariq said, "News of inflows from multiple channels including the credit line from the Islamic Development Bank (IDB) has created a positive sentiment about the balance of payments. This has resulted in a drop in dollar price in the interbank market against the rupee." 
As the future outlook becomes clear and investors gain confidence about the outcome of their future investments, the market will continue to incorporate the positive sentiment in trading activities, Tariq said. 
On Saturday, the US dollar had depreciated by Rs4 in the open market. The positive development was attributed to the end of political uncertainty following elections. 
In the past week, the greenback's price had soared as high as Rs130 as Pakistan moved to its second democratic shift of power amid security threats and terrorist attacks in different parts of the country.
Pakistan's economic fundamentals had deteriorated ahead of the July 25 general election. Since December, the rupee had cumulatively shed over 21% of its value after the State Bank of Pakistan reportedly abstained from intervening in response to the pressure exerted by a widening current account deficit.