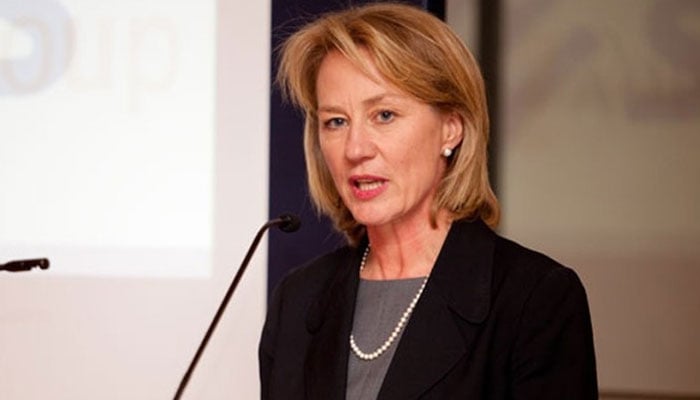 WASHINGTON: United States Principal Deputy Assistant Secretary for South and Central Asian Affairs Alice Wells has hailed Prime Minister Imran Khan's statement on the importance of peace on both sides of the Pak-Afghan border.
Addressing a press conference, Wells emphasised that Pakistan has a critical role to play in the long-term stability of Afghanistan.
"We encourage Pakistan to take stronger steps to ensure that the Taliban comes to the negotiating table rather than enjoying safe havens in the country. Both Pakistan and Afghanistan embarked an effort to improve their ties for negotiating a solidarity document which we strongly support," she said.
"We look forward to working with the new government [in Pakistan]. We are urging them to do more. We welcome [Pakistan Prime Minister] Imran Khan's words when he discussed the importance of having peace on both sides of the border."
The American diplomat underlined that while Afghan President Ashraf Ghani is putting forward a peace proposal in the interests of the Afghan people, it is the perfect time for all parties to come to the negotiating table.
On India's role in Afghanistan, Wells said India is supporting the economic development of Afghanistan up to 2020.
"One of the key new features of strategy tapping is that India is supporting the economic development of Afghanistan up to 2020. We need to see Afghanistan stitched back into the region," she said, adding that Washington wishes to build its long-standing commitment to the region and has taken important steps to ensure the region's future is free, open and operating in a rule-based system.
Wells further informed that the US conducted $1.4 trillion in two-way trade with the countries in the Indo-Pacific region. "More than USD 100 million of funding will go to South Asia, which includes USD 39 million for Bangladesh, USD 14 million for Sri Lanka and USD 17 million for Nepal. It will focus on maritime security, humanitarian assistance and disaster response, peacekeeping capabilities and counter transnational crime, which is the key for a free and open Indo-Pacific."