ISLAMABAD: The Civil Aviation Authority has categorically rejected any news regarding landing of a rumoured Israeli aircraft in Pakistan.

The CAA on Saturday issued a notification rejecting the rumours. "There is absolutely no truth to the rumours that any Israeli plane landed at any airport in Pakistan. No such plane landed at any airport in Pakistan," the authority clarified.
An Israeli journalist earlier this week sparked a storm of speculation on social media when he tweeted that an aircraft flew from Tel Aviv to Islamabad.
On October 26, Avi Scharf, editor of Israeli newspaper Haaretz, said in his tweet that the alleged plane did not directly fly from the Israeli capital into Islamabad. Instead, it followed a trick flight route by landing in Amman briefly to make it look like an Amman-Islamabad flight rather than a Tel Aviv-Islamabad flight.
The journalist in a series of tweets today (Saturday) provided details he had and did not have about the flight. 
"As my previous post caused uproar in Pakistan, here are all the details I have, and have not. Please follow: Bizjet M-ULTI tracked dep TLV (23Oct, 2000 UTC) , hopped Amman, got new sqwk 0757, then over Saudi Arabia, and lost track Gulf of Oman (23:00) Sqwk 0757 type: Glex XRS," Scharf said in his tweet after the CAA's denial.
"Re-appeared (24Oct, 00:40 UTC) descending into Islamabad, still sqwk 0757 and type. Desc to 20K feet, and then lost track again. After 10 hours (11:20 UTC), re-appeared heading SW from Islamabad, continued same track back to Amman, then TLV."
He said he did not know who owned the aircraft or who flew it, however, argued that there was no reason for it to descend from 40,000 feet to 20,000 feet for continuing north to Kashmir.
"I DONT know who OWNS it ("Multibird Overseas Ltd" in isle of man), or who FLEW on it. I DONT have 100% confirm landed Islamabad, because it lost track (not enought flightradar24 receivers there). However, no reason to desc 40K to 20K if continuing north to Kashmir or China. Mountains very high there (15K+)."
"And it has NO relation WHATSOEVER to Netanyahu flight to Oman on Oct25th," Scharf said.
"People keep asking, so I will repeat. M-ULTI is registered in Isle of Man, firm called 'Multibird Overseas'. However, according to flight records it's based in Tel Aviv, flying regularly out of TLV, even chartered for biz passengers."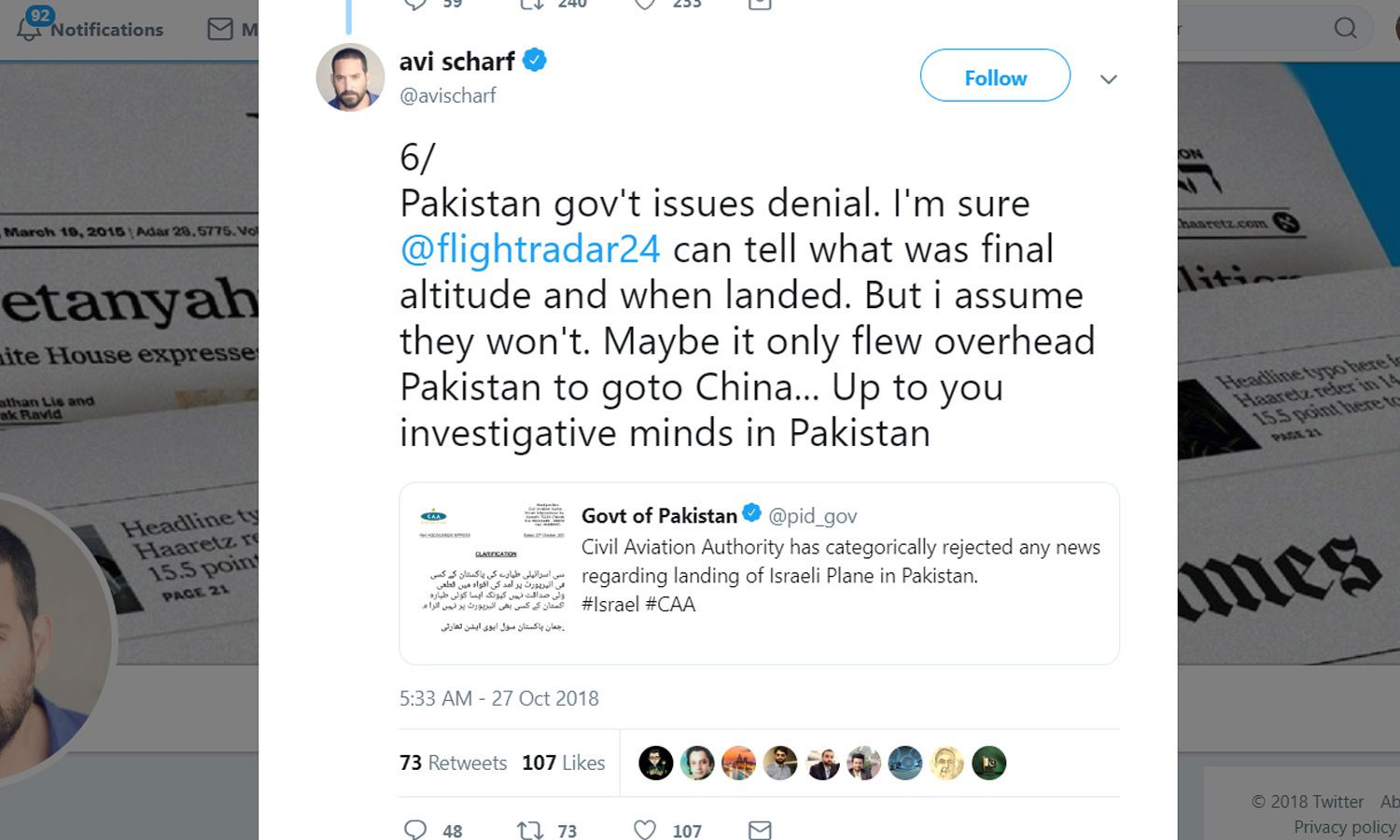 The Haaretz editor further said: "Pakistan govt issues denial. I'm sure @flightradar24 can tell what was final altitude and when landed. But I assume they won't. Maybe it only flew overhead Pakistan to go to China... Up to you investigative minds in Pakistan."
The Israeli journalist's tweets triggered a range of rumours on social media, with PML-N leader Ahsan Iqbal one of many seeking an explanation from the government on the matter.
Earlier today, Information Minister Fawad Chaudhry responded to Iqbal's tweet saying that the government would neither hold any secret dialogue with India nor Israel.

"The reality is that Imran Khan is not Nawaz Sharif nor his cabinet has fake Aristotles like you. We will neither hold any secret dialogue with Modi nor Israel," the minister replied to Ahsan Iqbal on Twitter.
"If you were so worried about Pakistan as you pretend to be, we wouldn't be in this situation. Don't show fake worry, Pakistan is in safe hands," Chaudhry lashed out at the Iqbal.
Foreign Minister Shah Mehmood Qureshi also dismissed reports of an Israeli aircraft landing in Pakistan as fake and baseless. 
Addressing a press conference, Qureshi said that something which is not even real does not warrant a response. 
Pakistan and Israel do not have diplomatic relations. Hence, aeroplanes registered in either country are not allowed to enter each other's airspace.

The BBC, after an initial investigation into the matter, established that the aircraft was a 'Global Express XRS' built by Canadian aircraft manufacturer Bombardier. 
It carries the serial number 9394 and was registered in the self-governing British Crown dependency Isle of Man on February 22, 2017. 
According to its registration details, the aircraft is owned by Multibird Overseas Ltd which is listed in the British Virgin Islands. These details rule out the speculation that it was an 'Israeli' aircraft.