KARACHI: Roads were blocked in major cities across the country as religious parties continued to protest for a second day on Thursday, amid efforts by the government to defuse the situation.
The protests began Wednesday shortly after a Supreme Court verdict acquitting Asia Bibi, a Christian woman sentenced to death on blasphemy charges.
Although most of the routes that were closed a day earlier in Karachi, Lahore, and Islamabad had been opened for traffic, some were still blocked on Thursday.

Karachi 
In Karachi, traffic was blocked at more than 20 places owing to the ongoing protests. 
Teen Talwar, Star Gate at Shahrah-e-Faisal, Numaish, Liaquatabad No. 10, Sohrab Goth, Korangi No. 5, Bara Board, Baldia No. 4, Ranchor Line, Shoe Market, and New Karachi were blocked for traffic.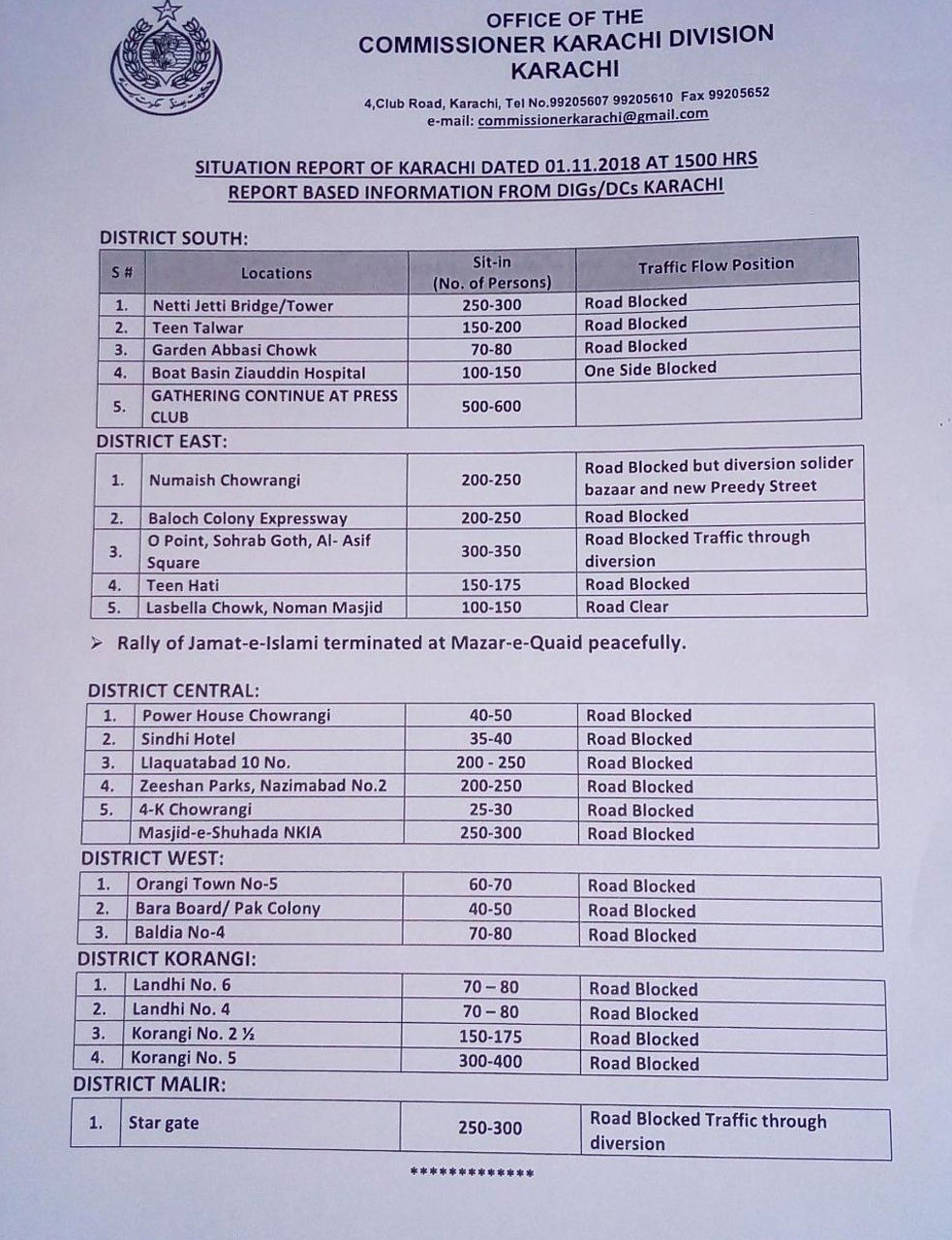 Further, protests were held at Hub River Road, Baldia, Maripur Road, Orangi Town No. 5, Power House Chowrangi, Nagan Chowrangi, Teen Hatti, and Moulvi Tamizuddin (M.T.) Khan Road.
Lahore 
In Lahore, traffic was blocked at five places — Charing Cross at Mall Road, Ferozepur Road, Data Darbar, Shahdara Chowk, Askari X, and Bhatta Chowk.

Roads from Askari X and Bhatta Chowk to the Allama Iqbal International Airport were blocked leading to difficulties for passengers.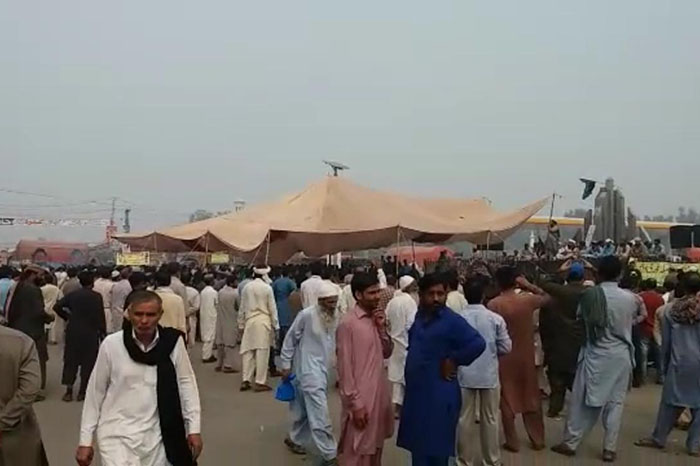 Data Darbar, Charing Cross, Mall Road, and Babu Sabu Interchange still remain closed for traffic in Lahore.

Railways spokesperson said the trains from Lahore and Rawalpindi division would be sent through different routes.
Islamabad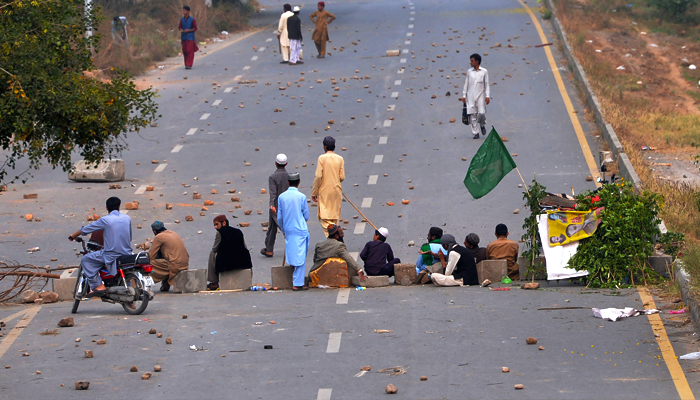 The Rawalpindi-Islamabad Faizabad Interchange was also blocked.

Roads were blocked at Dhoke Kala Khan and Tramri and Karal Chowks.
Further, traffic was blocked at routes leading to Taxila, Gujar Khan, and Pir Sohawa.
According to a motorways spokesperson, Pindi Bhattian-Lahore, Pindi Bhattian-Faisalabad, and Faisalabad-Gojra motorway were blocked for traffic.
The M2 Motorway from Lahore to Islamabad was also blocked.
"The traffic from M2 Motorway was being diverted to GT Road through Pindi Bhattian," the spokesperson added.
The National Highways and Motorway Police also issued a travel advisory in view of ongoing protests.  
Peshawar 
In Peshawar, protests were being staged at the Ring Road and GT Road. Roads leading to the motorway have also been blocked.
On Wednesday, following the protests, Section 144 was imposed across Punjab, Sindh, and Balochistan barring the gathering of more than four persons in public places as well as pillion riding.
Section 144 has been imposed till November 10.

Other cities
Protests were also being staged in Gujranwala, Mansehra, Faisalabad, and other cities across the country.

PIA issues advisory
Pakistan International Airlines (PIA) advised passengers to report at least four hours prior to their flight departure as roads have been blocked in major cities across the country owing to ongoing protests.
The national flag carrier advised passengers to report five hours prior to their international flight departure and four hours before their domestic flight departure.
"Passengers can receive information regarding their flight timings by calling 111 786 786," a PIA spokesperson said.
Educational institutions closed 
All educational institutes across Punjab remained closed today in light of the traffic and law and order situation in the country, a spokesperson for the provincial government confirmed.
In Sindh and Khyber Pakhtunkhwa, however, only the private educational institutes remained closed, while all schools, colleges, and universities in Balochistan remained open as per schedule.
The Punjab government spokesperson said that intermediate exams slated for Thursday under all secondary education boards were postponed and that a new date will be announced later.
The School Education Department, in light of the expected traffic situation today, announced a holiday, while the University of Engineering deferred the exams that were scheduled for today.
Private educational institutes in all of KP's districts, including Peshawar, also remained closed today.
COVER: Supporters of religious parties block a street during a protest — following the Supreme Court's decision to acquit Asia Bibi — in Islamabad, Pakistan, November 1, 2018. AFP/Aamir Qureshi