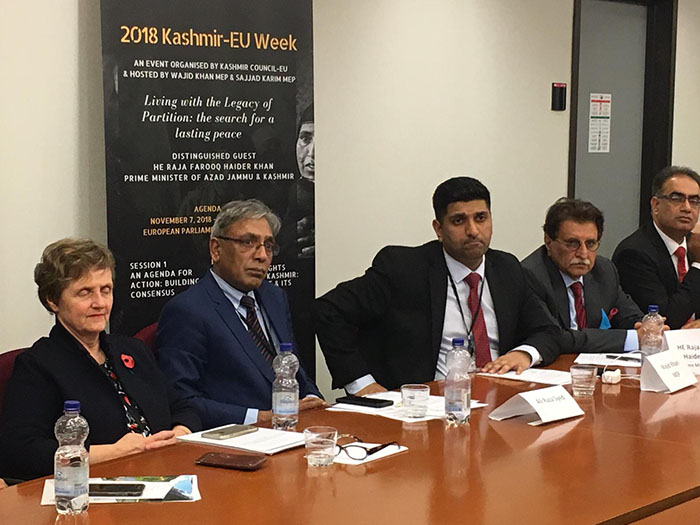 BRUSSELS: The 11th Kashmir-EU week in the European Parliament was inaugurated on November 5. The event is being hosted by European Parliament members Wajid Khan, Dr Sajjad Karim, Julie Ward and Anthea Macentire. The high profile guests included AJK Prime Minister Raja Farooq Haider, internationally acclaimed human rights activist Khurram Pervez, President Kashmir Global Council, Farooq Siddiqui besides many other renowned academics, researchers, human rights activists, political workers and community leaders.

Welcoming the participants in the inaugural session, Chairman Kashmir Council EU, Syed Ali Raza thanked all the participants saying that the event had become a strong tradition and influential annual conference within one decade. Raza added they needed peace in South Asia, which necessitated a just solution of Kashmir conflict according to the will of the Kashmiri people.
Sajjad Haider Karim said the international community lacked the political will to insert pressure on India. He welcomed UN report on the Human Rights Situation in Kashmir.
A special feature of the conference was the photo exhibition taken by Belgian photographer Cédric Gebahayer who gave a short presentation of his photos that captured life in Indian occupied Kashmir. Later, the exhibition was launched in European Press club which will exhibit the photos for two weeks before its inaugural in EU parliament in Strasberg.
Khurram Pervez, the winner of Reebok Human rights award and head of Jammu and Kashmir Coalition of Civil Society, explained the content, importance and possible impacts of the recently launched UN report on the situation of human rights in Kashmir. He advised Pakistan to allow UN observers mission unconditionally.
PM Azad Kashmir Raja Farooq Haider recalled the fate of young boys and girls of Kashmir who were blinded by the pellet guns used by Indian armed forces. He said people of Kashmir wanted peace but India also should respond to the call of peace instead of resorting to brutal power.
A seminar chaired by MEP Wajid Khan discussed the issue of disappearances in Indian held Kashmir. MEP Anthea Macentire, Julie Ward, PM AJK, Raja Farooq Haider and academic Goldie Asurie delved upon the issue. According to a research study, around ten thousand people were missing in IoK. The participants pleaded the international community to help in recovering those missing persons. The member of Theatre X, Berlin, Ge Romany Miss Yasmine emphasised upon promoting culture to spread awareness about Kashmir.
There was a parallel conference on Kashmir chaired by former Prime Minister AJK Sardar Atiq Ahmed Khan. The participants demanded right to self-determination.