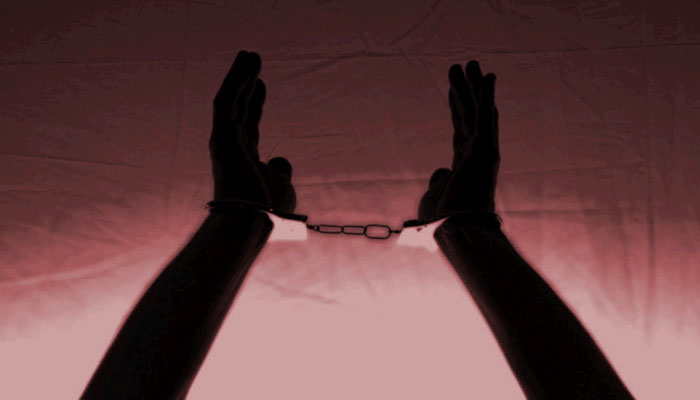 These are strange times.

Handcuffs are discussed in public and on television with such nonchalance as if they were bangles to be gifted at a wedding. The purpose of these restraint devices has always been to prevent hardened criminals from escaping police custody or from grabbing an officer's gun. Last month, the National Accountability Bureau (NAB) presented an educator, the former vice chancellor of the Punjab University, Mujahid Kamran, in steel handcuffs to a judge in Lahore.
When Kamran appeared in the court, all those present were aghast. "These are our teachers. Why are they in handcuffs?" inquired one lawyer. Kamran's colleagues termed it as an attempt to deliberately humiliate the educationist.
The former vice chancellor has been accused of making at least 500 illegal appointments. Other charges include corruption of millions of rupees and nepotism. Should he have been treated any different from a criminal? Is the law different for teachers? Should it not treat everyone the same?
Previously, when senior bureaucrats Fawad Hassan Fawad and Ahad Cheema were first brought to court, they were in handcuffs. Shehbaz Sharif, the former chief minister of Punjab, didn't appear for hearings with his wrists bound but he did arrive in a bunkered vehicle. A lot of hue and cry was raised over transporting Sharif like a terrorist. Thus, in later hearings, he was brought by NAB in an ordinary vehicle. One wonders why the same sentiment is not expressed for the ordinary accused, who are ushered in and out of courts in the most demeaning conditions.
Does the law only exist for the poor? When an elite is convicted should the state bend over backwards to make their arrests comfortable?

In China, financial crimes and corruption have been almost wiped out. It wouldn't have been possible without the government's will and the people's determination to do so. Here, of course, things are completely different. If a member of the parliament is arrested or even investigated, the entire democratic process falls into "danger". The parliament, we are told, is being dishonoured. Surprisingly, the parliament is not dishonoured by the charges of rampant corruption.
Now, corruption is not just about amassing ill-gotten wealth. Not providing justice is also a kind of serious dishonesty, which the state committed earlier this month. Raging protesters shut down two cities and blocked main roads for three days after the Supreme Court acquitted Asia Bibi. The government was inept or unwilling to maintain law and order. Rather than impose the writ of the state, it sat down in negotiations with the mob leaders.
To this date, those whose properties were damaged have not been compensated. The men who wreaked havoc on the streets have yet to be presented in chain links. Who do we hold responsible for this? Whose wrists should be cuffed for denying us justice?
Or has the state already handcuffed itself and thrown away the keys?
Ansari is the bureau chief of Geo News in Lahore
Note: The views expressed are those of the author, and do not necessarily reflect the official policy or position of Geo News or the Jang Group