Pakistani drag queen gives men taste of their own toxicity in comedy show
Updated Tuesday Feb 26 2019
KARACHI: Miss P. Chattni, Pakistan's first-ever drag queen who performs adult comedy shows, during a recent performance called out men on their hypocrisy in their demands from women to be "perfect" as well as on their performative wokeness.

Despite having consistently confessed her "love" for men in her shows, Miss P. Chattni, who made her Karachi debut in Liberals Ki Aadhi Saazish to overwhelming success late last year, made men the butt of her jokes and did not miss any chance to point out their toxic behaviour that, over time, snowballs into quite the emotional baggage that women have to deal with eventually.

The drag queen stepped out this time in a bright blue knee-length dress and short, light golden-brown hair — a welcome transformation from last September's desi vibe when she had donned a flashy red and purple Marathi saree against long hair and sharp make-up.
Following a dance performance, she calmed the packed crowd and their overwhelming reception with an announcement about the upcoming Aurat March 2019 on March 8, 2019, and urged her fans — men, women, and folks of all sexual and gender identities — to join.
"This is the time of women empowerment. This is aurat raaj," she exclaimed, using the apt and very popular Aurat March chant. "Come to the Aurat March, and then, my show — a day later."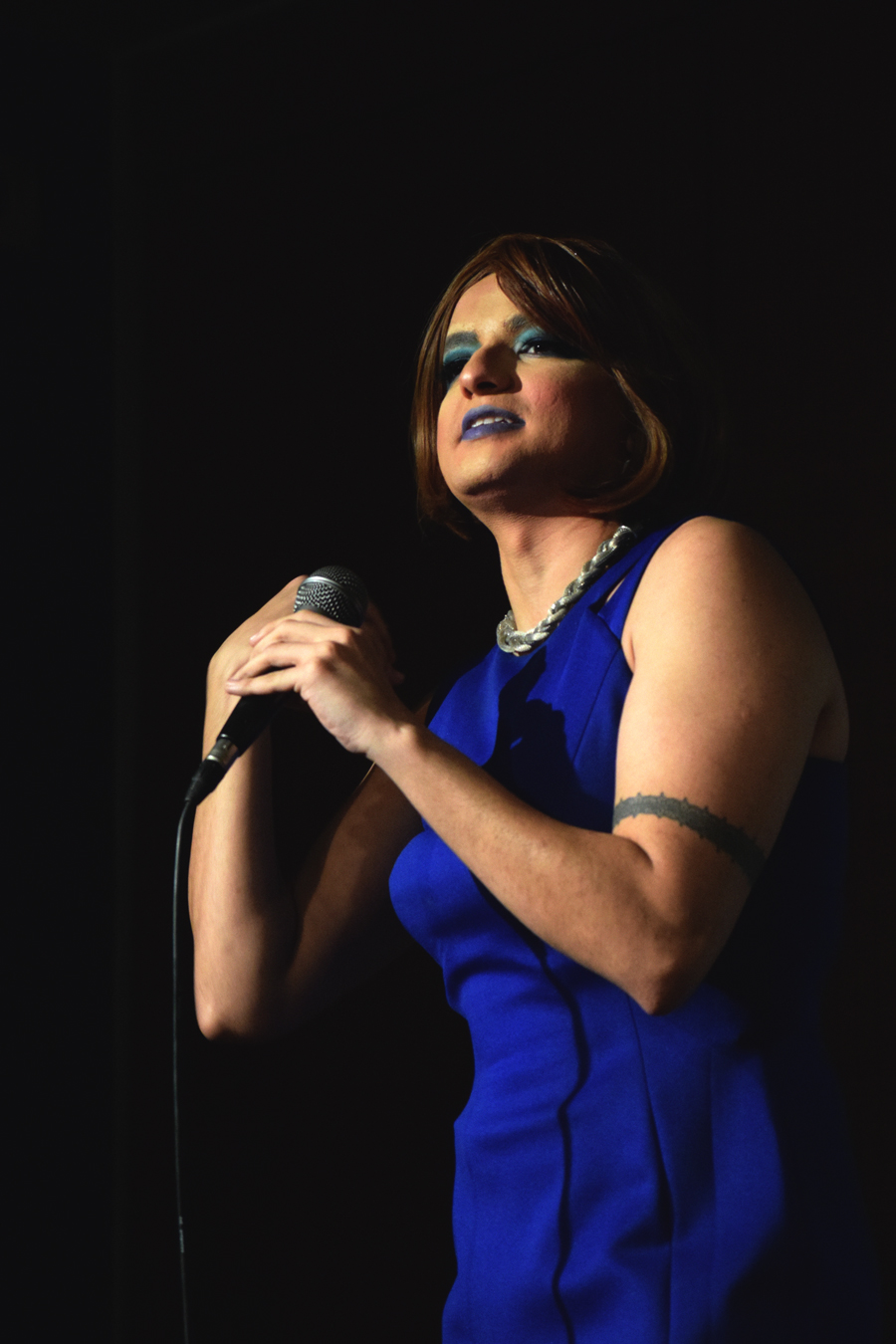 In a hilarious jibe, she slammed conservative men who eye independent women like predatory animals and, then when women enjoy being themselves, they stalk and harass them.

The rebellious and fiercely unapologetic Miss P. Chattni reminisced about her adventurous and daring escapades and dragged men — white and brown alike — through cars, rallies, and road (all puns intended). Regardless, she noted that masculine egos are too fragile and that "multiple [men] can't coexist [because] they always end up fighting".
Miss P. Chattni, who has a no-filming policy during her live performances that she describes are "exclusively reserved for the depraved [and] the desperate", also took a swing at desi men from various universities and how they behave with women, indicating the kind of culture at local educational institutions.
She mentioned "sexual harassers" of a private school, those who whistle and catcall at a public university, the "social justice" men of another school located on the outskirts of Karachi, and some who are "cooler but with decades of emotional trauma" at an institute in one of the metropolis' upscale neighbourhoods.
A curiously obsessive admirer of activist Jibran Nasir, the drag queen very smartly pointed out that some men — and especially the desi ones — really need to start being open to the idea of consulting therapists because women "are not your counsellors".
It is a concerning reality that men are shackled by the "macho" patriarchy and the problematic "bro culture" that perpetuates favouring male friends over respect for women and acceptance of platonic women friends, and looks down upon men who express emotion and want to challenge heteropatriarchy.

Yet, as Miss P. Chattni stressed, it is also up to men to recognise and shed this toxicity.
—The author is a Karachi-based AP at Geo.tv, focusing on world politics and social issues. He tweets @haseemuzzaman