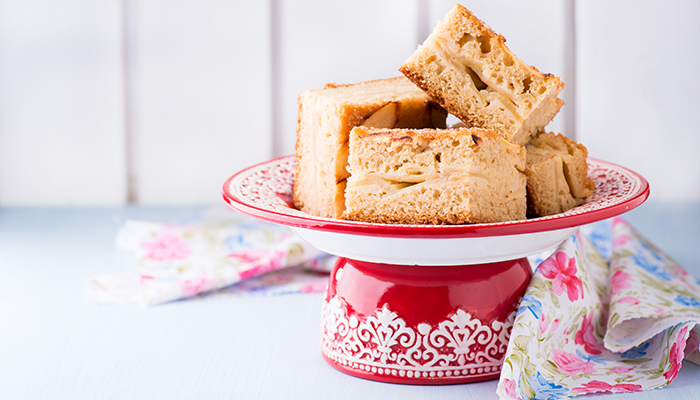 Are you passionate about baking? Well, you are in luck!  Follow the steps and surely this sweet treat will turn out delicious. Happy baking!Apple Cake
Ingredients:
Apples 4
Lemons 2
Sugar 14 ounces
Butter 1/4 cup
Flour 13oz
Eggs, room temperature 4
Baking powder 4 tsps
Whipped cream or ice-cream as required
For sprinkling on top:
Sugar 2 tbsps
Cinnamon powder 1 tsp
Method:
Preheat oven to 350 degrees. Grease a pan and set aside.
In a bowl mix together flour and baking powder.
Juice the lemons in a large bowl and set aside.
Peel the apples and cut them in half. Then slice them very thinly, and place in the bowl of lemon juice to avoid discolouration.
In a pot, place the butter and measure the milk. Then add the milk to the butter and bring it to a boil. Turn off the gas and let it cool for 5 minutes.
In a separate large bowl, crack the eggs and add sugar, then beat for about 7 minutes with an electric mixer until the mixture becomes pale, thick and creamy.
Slowly add the butter and milk mixture to the bowl of eggs and sugar, and continue to beat for 3 more minutes.
Now, add the flour and baking powder and mix well with a spatula.
Pour the batter into the greased pan. And layer the apple slices overlapping one another in the batter.
Then sprinkle the sugar and cinnamon mixture on top and bake for 25 minutes or until done.
Serve with ice-cream or whipped cream.
Originally published in The news